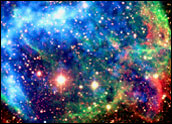 The Obama administration on Monday released a new space policy for the U.S. that emphasizes international cooperation and the advancement of the commercial space industry.
"No longer are we racing against an adversary; in fact, one of our central goals is to promote peaceful cooperation and collaboration in space, which not only will ward off conflict, but will help to expand our capacity to operate in orbit and beyond," President Obama explained.
'Mars and Beyond'
Debris and other hazards associated with satellite technology were another concern mentioned by Obama, who asserted the imperative that the nation keep its work in space "responsible, sustainable, and safe."
Focusing on the "boundless possibilities of the future," meanwhile, Obama reiterated the need to further the commercial space industry "to rapidly increase our capabilities in space while bolstering America's competitive edge in the global economy."
Finally, the administration's policy also seeks to improve study of the earth "to gain new insights into our environment and our planet," to ramp up robotic and human space exploration "with our sights set on Mars and beyond," and to inspire young people to pursue careers in science and engineering, Obama said.
Arms Control a Possibility
The new policy "reaffirms the longstanding and bipartisan U.S. policy that we are open to space-related confidence building and arms control concepts and proposals, provided they meet the rigorous criteria of equitability, effective verifiability, and consistency with our national security interests," Secretary of State Hillary Rodham Clinton said.
The State Department will support the policy by expanding its work in the United Nations and elsewhere to address the growing problem of orbital debris, for example, and by pursuing "pragmatic transparency and confidence-building measures to mitigate the risk of mishaps, misperceptions, and miscalculations," she added.
Outside Washington, reactions to the new policy were mixed.
'Still-Powerful International Distrust'
"These fine words collide with still-powerful international distrust, exemplified by the recent flap over China's role as a potential partner," NBC News space analyst James Oberg wrote in an analysis on Monday, for example.
"Expanding cooperation merely for the sake of cooperating, as a goal in itself rather than a means toward a goal, can become an empty (but potentially costly) gesture," Oberg added.
Similarly, the policy "fundamentally says we will help all others to be successful and relegate the USA to a secondary role of technology work," Paul Czysz, a professor emeritus of aerospace engineering at St. Louis University, told TechNewsWorld.
"What we needed was what is anathema to President Obama: The USA is to be first along with its NATO partners," Czysz added.
'To Explain and to Inspire'
On the other hand, international collaboration "is indeed necessary," Mario Livio, senior astrophysicist with the Space Telescope Science Institute, told TechNewsWorld.
With science as "an important driver," meanwhile, "the goal always was and should remain to explain and to inspire," Livio added.
For Randa Milliron, CEO and cofounder of Trans Lunar Research and Interorbital Systems, "the potential for domestic space sector revitalization is always good news," she told TechNewsWorld.
"This hot new policy stands in stark contrast to that of the previous administration," Milliron added.
Personal Satellite Kits
Interorbital Systems develops and manufactures low-cost, state-of-the-art orbital launch vehicles and satellites for private, commercial, government and military applications. Among its offerings, for example, are an US$8,000 TubeSat Personal Satellite Kit and ultra low-cost Neptune Orbital Launch Services.
With more than 30 global launch partners and an inaugural launch slated for the first quarter of 2011, IOS's commercial space program "will immediately fulfill some of the National Space Policy's mandates," Milliron asserted — specifically, "more international cooperation and a launch price-point that allows open orbital and interplanetary access to anyone who practices the peaceful use of space," she said.