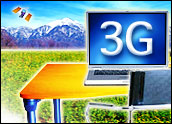 At one time, users had to buy Ethernet adapters, install them in their desktop computers, and then upgrade them as they moved to a faster version of the networking option. Now when users buy a desktop system, it comes with an integrated adapter that supports a variety of transmission speeds. A similar transition is beginning with 3G wireless data services.
"Laptop vendors are interested in embedded 3G modems because it offers them the potential to differentiate their products and cellular carriers think it may encourage a few more users to rely on their services," noted Allen Nogee, a principal analyst with market research firm In-Stat/MDR.
Whether or not their hopes will become reality is uncertain. Prices for these devices are high, and currently, the modems lock customers into specific carriers' services, an unappealing option. Since cellular services have not been as functional as alternatives, such as broadband and WiFi, they have not garnered widespread acceptance.
To address the last problem, 3G carriers have been upgrading their networks, so they support faster transmission speeds. Many have made the transition from GPRS, which works at 115K bps, to EDGE, which operates 384K bps. On the docket are upgrades to HSDPA and UMTS (W-CDMA), which have the potential to support multi-M bps transmission rates.
Trying to Spur Sales
As speeds increase, cellular data services should become a more viable option for laptop users. Bundling the modems with the system is designed to make it entice enterprises to provide their users with 3G connectivity. "The uptick with cellular data services has not been as significant as carriers had hoped, so they have been looking for different ways to market their services," said Ken Dulaney, an industry analyst with market research firm Gartner. Bundling has been so successful with WiFi links that now almost all laptops come with an embedded WiFi modem.
Simpler management may be another benefit. Since employees are working with the same modem and same cellular carrier, corporate IT staff should have less trouble pinpointing problems.
In addition, the built-in WAN connections could lead to lower costs for the cards. "3G modem cards have been expensive, ranging in price from US$200 to $300," stated Jack Gold, president of consultancy J. Gold Associates. Users who often pay less than $1,000 for the laptop can find it difficult to justify such purchases. Theoretically, the integrated modems reduce the number of needed components, which cuts pricing, and should appeal to a wider range of users, thus driving up shipment volume.
Notebook Vendors Pick Partners
Consequently, there has been a lot of activity in this space. Lenovo has begun shipping its Z, T and X Series ThinkPads with Verizon Wireless data connections. Hewlett-Packard's nc6140 Notebook PC also has a Verizon link, and in April, the computer company said it plans to develop an embedded modem for Cingular's cellular networks. Dell integrated Cingular Wireless UMTS/HSDPA and Verizon Wireless EV-DO mobile WAN connections into its Latitude notebooks.
While there has been plenty of activity among laptop vendors and cellular carriers, however, user interest does not seem as keen for a variety of reasons. One problem with the current cards is they are tied to specific vendors. Switching from one service to another now requires a hardware alternation. The upgrade would require that users turn their systems in for at least a brief period as the new equipment is installed.
External modems can simply be unplugged. Even sticking with the same carrier does not solve the problem: many are moving to higher speed networks, which require new cards. "Since most users plan to keep their laptops for two to three years, they would have to upgrade their computers a couple of times, so we are recommending that they avoid the internal cards at this time," J. Gold Associates' Gold told TechNewsWorld.
Vendors are working to make the upgrade process simpler. Embedded modems that work with a variety of networks and support a range of speeds are on the drawing board, but they probably won't arrive for a few years.
Short Lived Differentiation
Once the multifunctional internal modems are shipped, hardware vendors will no longer have a feature to differentiate their hardware from competitors' products. "I don't think the imbedded modems will lead to many additional sales for hardware vendors," In-Stat/MDR's Nogee told TechNewsWorld.
Also, cellular data services tend to be expensive, costing at least $50 per month. "If you think about it, how often would most users work with a cellular data service: maybe an hour or two when they are sitting at an airport," noted Gartner's Dulaney. "There are faster, less expensive options available to them, such as WiFi and broadband, if they really need to access to data.'"
3G vendors started to develop these services before the advent of WiFi and widespread availability of broadband connections. Consequently, they envisioned a bevy of users who would need high speed data services.
Securing the Niche
The market seems much smaller today. The embedded modems will likely appeal to highly mobile employees, those in sales, field service, real estate, or public safety. If the number of users is small, the promised savings from increases in shipment volumes may not materialize. so vendors remain caught in a chicken-and-egg scenario: prices are high because shipments are low and shipments are low because pricing is high.
Consequently, analysts expect only limited use of these new modem in the next few years. "Eventually, the embedded modems will become more common, but in the short term, there does not seem to be many compelling reasons to buy them," concluded In-Stat/MDR's Nogee.