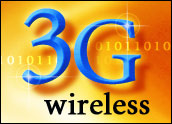 Faster, more flexible, less expensive and more functional has been the telecommunications industry's mantra. As soon as one networking technology takes hold, vendors begin pushing another that promises to deliver more functionality, and such a scenario is now unfolding with wireless wide area networks.
Currently, carriers are delivering 2.5G networks that offer customers 56 Kbps to 144 Kbps of bandwidth for data transmissions, speeds that are suitable for simple graphic or video transmissions. Recently, major vendors have begun to roll out 3G networks, which promise to at least double those numbers and could push them to the 2 Mbps transmission range, a change that would enable wireless networks to support applications like videoconferencing.
Migration to these new capabilities has been taking place for a couple of years but has encountered a few hurdles. Whenever a new technology emerges, vendors need time to deliver new equipment.
"The functionality of 3G network switches was an issue in 2003, but there has been enough testing and deployments, so carriers now feel quite comfortable installing those devices," Lynda Starr, an industry analyst with Probe Research Group LLC, a telecommunications market research firm, told TechNewsWorld.
Digging into Carriers' Pockets
However, moving to the new services can be a costly proposition. Upgrading a single cell site — the location that receives all incoming messages — from 2.5G to 3G capabilities can cost US$40,000 to $60,000. Because wireless telecommunications firms have dozens of these sites in densely populated areas, upgrading the service in a medium city quickly becomes a multimillion-dollar investment.
In the late 1990s, carriers planned to make such investments quickly. "As the dot-com bust became evident, just about every wireless carrier dramatically cut back on their network expenditures," said Philip Marshall, an industry analyst with market research firm The Yankee Group.
So carrier spending on network upgrades dropped dramatically — by 50 percent or more in some cases — in 2002 and 2003. While they are still not investing at the pace evident in the late 1990s, wireless telecommunications service providers have started to loosen their purse strings.
"The carriers now seem willing to make investments in new network equipment as long as they are based on sound business cases," Ira Brodsky, president of Datacomm Research, a wireless network market research firm, told TechNewsWorld. "Since wireless revenue is on the rise, it is an area where they can successfully present such cases."
Can't We All Just Agree?
Competing standards have been another area of contention. Through the years, one set of specifications has been developed for wireless networks in the United States, and another set has been designed for Europe.
This dichotomy holds true today. Most U.S. carriers have focused on products that support Code Division Multiple Access (CDMA) standards, and the 3G version of that standard is CDMA Evolution-Data Only (CDMA2000 1xEV-DO), which provides wireless customers with data rates of up to 2.4 Mbps.
European carriers have relied more on Global System for Mobile Communications (GSM) technology. As a result, they are promoting its successor, Wideband CDMA (WCDMA), which also has been known as Universal Mobile Telecommunications Service (UTMS). This 3G service, which is incompatible with CDMA2000 1xEV-DO, offers data speeds of up to 2 Mbps.
AT&T Wireless and Verizon Moving Ahead
The battle between the two standards has spilled into the United States. Verizon Wireless has begun deploying a next-generation wireless service, Express Network 3G, which is based on CDMA 1xEV-DO. The service is available in limited areas: Norfolk, Virginia; Portland, Oregon; San Francisco and the Silicon Valley region; and Salt Lake City, Utah.
AT&T, which has a strategic partnership with Japanese wireless supplier NTT DoCoMo, has been relying on GSM technology to support its data services. During the year, the domestic company has been rolling out WCDMA services in Dallas, San Diego, San Francisco and Seattle.
While customers of the new services do receive additional bandwidth, it comes with a lofty price tag. Verizon is charging an additional $30 per month for its 3G services. "Carriers are concentrating first on the business market, which can cost-justify the additional investments, and later will focus on marketing their 3G services to consumers," the Yankee Group's Marshall told TechNewsWorld.
High Cost and Hurdles
Because of high cost and various hurdles, analysts are split on how quickly 3G services will become available. "The carriers need to demonstrate that the extra bandwidth will support new applications that interest their customers before we will see significant movement to 3G services," said Probe Research Group's Starr, who expects 3G penetration rates to be less than 1 percent by the end of the year.
To drive customer acceptance, carriers are focusing on high-bandwidth applications like videoconferencing, multimedia messaging and online gaming.
That is one reason why Datacomm Research's Brodsky sounded a more optimistic outlook. "New technologies usually encounter a few challenges as they become established," he said.
"Often, just when everyone is ready to write them off as a bust, they take hold," Brodsky added. "A lot of folks are down on 3G services now. Yet carriers seem to be focusing less on marketing these services and are focusing more on deploying them, so I think they will evolve faster than some anticipate."