This story was originally published on Nov. 14, 2012, and is brought to you today as part of our Best of ECT News series.
Welcome to TechNewsWorld's new series exploring the app phenomenon that's threatening to relegate search and Web browsing to the technology history books.
First up: Google's Chrome Web browser environment and its productivity-oriented officework tools.
The Chrome Platform
Google's Chrome Web browser features three types of add-on — Web apps,themes and extensions — that are available from the Chrome Web Store.
Download theChrome browser and take advantage of add-ons to enhance it by clicking on anew tab and choosing Chrome Web Store on the lower right.
Now we'll take a look at the top five free office desktop applications from app monster Google.
No. 1: Teambox

Teambox, a task management app that claims 50,831 users, has a Chrome Web Store rating of 4.42 stars out of a possible five.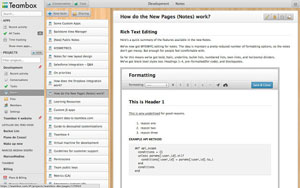 (click image to enlarge)
If you haven't already, dump archaic email for projects. It doesn't work. The ideaof having a stream of emails gathered chronologically — and stuffed with uncollaborativeattachments rather than fluid conversations organized by project — is asking for confusion and delays.
Team collaboration app Teambox supports five users for free. For more, there's a fee of US$5 each per year. Projects related to clients, sales and so on can be created and in-filled to post conversations, tasks andfiles.
The idea is that you send invitations to collaborators, who can then view recent activity, notes, files, and so on from their browser and make relevant additions.
TechNewsWorld chooses this app as the No. 1 must-have Chrome office tool because of its packed set of project and task management features.
No. 2: SlideRocket

SlideRocket is a presentation app that claims 287,697 users; Chrome Web Store gives it a rating of3.99 stars out of a possible five.

Pitched at those bored with Microsoft staple PowerPoint, SlideRocket Lite lets you create svelte presentations. The downside is the price you need to pay — US$24 per user per month — if you want to be able to export. The free version requires you be logged in to present the slides.
This app is an engaging alternative to making client presentations with plain vanillaGoogle Docs or tired PowerPoint.
TechNewsWorld selects this app as the No. 2 must-have Chrome office tool, because it allows you to create unique presentations that aren't run of the mill. This graphics-generating app missed the top spot because it doesn't have the clear profit-maker ability of task manager Teambox, and it's expensive.
No. 3: Google Docs

Google Docs is a set of office applications with an unknown number of users — but certainly in the millions. The Chrome Web Store gives it a rating of 4.46 stars out of a possible five.

Must-have Google Docs, which ties in with the Google Drive cloud storage product, includes sharing and collaboration functions. Its killer feature set includes opening andediting word processing documents without any expensive software.
This app ties in strongly with Google's other cloud products, like Gmail. It's one of the simplest apps in the Chrome store because all it seems to do is provide a shortcut to Google Docs in the cloud.
Nonetheless, because it's a highly effective free alternative to Office, it rates the No. 3 position.
No. 4: Google Drive
Google Drive is a cloud storage tool that currently boasts 10 million-plus users; the Chrome Web Store gives it 4.52 stars out of a possible five.

Access files from anywhere that you have an Internet connection. Files are stored inthe cloud, which is notable, because this app won't work when offline. However, its toolsinclude bonus PDF conversions and document creation.
TechNewsWorld gives Drive a runner-up position because it only provides 5 GB of freestorage. Others provide more, although they aren't as tightly integrated with Chrome.
No. 5: Cacoo
Cacoo is a diagramming app that has 236,388 users and a Chrome Web Store rating of 4.04 stars out of a possible five.

Cacoo permits simple on-screen diagramming for the creation of flow charts. As with many of these apps, free usage is limited — only 25 sheets, or diagrams, are included for free, and it allows only threeexports.
Vector format exporting requires a minimum $4.95 a month subscription that includes unlimited sheets.
TechNewsWorld gives this otherwise excellent app a runner-up position for its nickel-and-dime attitude.