Chrome apps are the newest form of extension and helper for the Chrome Desktop environment, and as of late last year, any computer, including Macs, could use them.
Here are five recently updated free Chrome apps that are worth a look. All of them can be run offline, outside of the browser, on the desktop.
About the Ecosystem
Google's Chrome apps and browser extensions can be obtained in the Chrome Web Store. Look for the "Runs Offline" label in the app Overview.
To find Chrome apps for the desktop, browse the "For your Desktop" section of the Chrome Web Store. You can reach the store by clicking on the Apps icon on the top left of the browser.
Mac users can search by name in the Spotlight search. Find the installed apps again in the Applications folder in the Dock.
No. 1: Google Keep

Google Keep has 4 stars out of a possible 5 from 6,827 reviewers in the Chrome Web Store. The app has 2,714,610 users.

Newly updated for the desktop, Google's Keep app allows you to take notes in a Post-it note-like UI. It's geared toward notes, lists and reminders, but it also lets you incorporate photographs. The reminders and gorgeous color coding make this app a pleasure to use.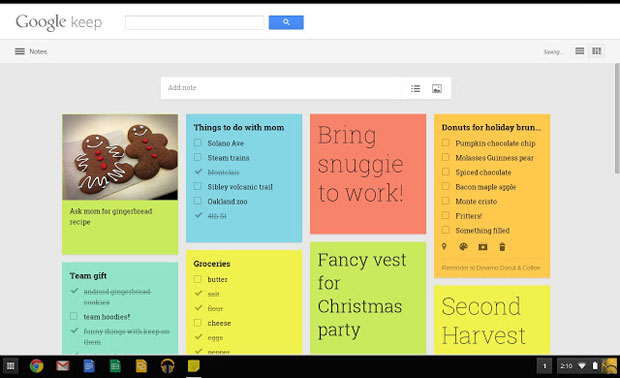 The killer feature, though, is the seamless synchronization across mobile and desktop devices. This attribute alone makes the app superior to paper and a must try.
No. 2: Pixlr Touch Up

Pixlr Touch Up has 4 stars out of a possible 5 from 547 reviewers in the Chrome Web Store. The app has 312,302 users.

Here's a simple photo-editing tool that runs offline within the new Chrome desktop.
While it's not suitable for power users in a commercial shop, it does crop, resize, rotate, and allow for contrast adjustment and color enhancement. Plus, it has some effects.
As one might expect from a Google-Chrome integration, you can open and save files straight to and from Google Drive.
No. 3: WeVideo Next

WeVideo Next has 4 stars out of a possible 5 from 149 reviewers in the Chrome Web Store. The app has 44,345 users.

Another recent app upgrade for the desktop, WeVideo Next is a video-editing tool that exploits HTML5. Markup language HTML5, a recent HTML revision angled toward multimedia, is making inroads in the app-programming space partly because it's cross-platform friendly.
Notably, this app functions using both online and offline video content.
No. 4: Smartsheet Chrome App
Smartsheet has 5 stars out of a possible 5 from four reviewers in the Chrome Web Store. The app has 343 users.

While not a true offline desktop app like the others we've been looking at here, this app displays powerful collaborative qualities across the Google infrastructure and is a good example of app in a seamless Google integration.
It handles Google Drive, Gmail and Google Calendar sync, all with a classic spreadsheet look and feel. Gantt charts are included, although be warned that this app is only a 30-day free trial come-on.
No. 5: Google+ Photos
Google+ Photos has 3.5 stars out of a possible 5 from 166 reviewers in the Chrome Web Store. The app has 635,035 users.

Google+ Photos is about keeping your photos backed up on Chrome OS, the operating system used by Chromebook — Google's laptop product — and will perform a backup to Google+ automatically when you insert an SD card on that device.
Don't look at this as a cross-platform app, but if you are using Chrome OS, this is the app to use.
It includes simple sharing functions and an offline viewer, so you don't have to be Internet-connected to see the collected images.