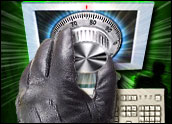 Well, an A for creativity.
In Australia, someone penetrated a high school's IT system and penned text messages and emails to parents saying that the school had been badly damaged by a fire and was not fit for students.
There was no truth to the message, however — just a bit of April Fools' Day shenanigans.
The local Department of Education and Communities claims that an unknown person wiggled into the school's IT systems and shot out the messages early Tuesday morning. The phone numbers and email addresses were culled from a list of parents who signed up to receive important information.
The school district said it would report the incident to police, citing data protection concerns.
[Source: The Age]
Britain's GCHQ Targeted German 'Teleports'
Britain's Government Communications Headquarters, or GCHQ, has targeted German teleports, which provide Internet and telephone services to remote places such as oil drilling platforms, mines, foreign outposts and the like.
GCHQ — which is akin to the U.S. National Security Agency — snooped on employees at several German companies and infiltrated their networks, according to a report from Germany's Der Spiegel magazine, which cites Edward Snowden documents.
The agency wanted to develop an "in-depth knowledge of key satellite IP service providers in Germany," according to one secret document obtained by Der Spiegel.
German companies Stellar, Cetel and IABG all were mentioned by name in the documents, which also suggest that employees at said companies should be monitored.
[Source: Der Spiegel]
Twitter Purchases European Analytics Companies
Twitter purchased a pair of TV analytics companies in Europe — France's Mesagraph, and UK-based SecondSynch. Teams from both Mesagraph and SecondSynch will join Twitter's office in London.
The acquisitions reflect Twitter's ambition "to become an essential social complement to TV viewing, a core strategy that has been given priority in the U.S.," according to The Wall Street Journal.
[Source: The Wall Street Journal]
Alibaba Invests in Department Store
Chinese e-commerce behemoth Alibaba announced that it will pony up US$700 million for a minority stake in a Chinese department store operator, marking something of a reverse migration from online to traditional retail.
The move will net Alibaba a stake in Intime Retail Group, which runs three dozen departments stores and shopping centers in China.
Alibaba last month announced that it had set the wheels in motion for a U.S. initial public offering. It could be the biggest-ever technology IPO — even more than the $16 billion Facebook nabbed in 2012.
Alibaba does not appear to have any interest in running department stores but instead is trying to diversify its e-commerce offerings.
According to the specs of the deal, Alibaba will acquire a 10 percent stake in Intime, thanks to a purchase of 220 million new shares at $7.53 a pop — a 13.7 percent discount on the stock's previous trading price. Intime will issue nearly $4 billion worth of convertible bonds to Alibaba, which can be exchanged for 489.6 million shares — an additional stake of roughly 25 percent.
[Source: The New York Times]