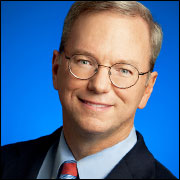 Google chairman Eric Schmidt took to Google+ to discuss his recent trip to North Korea.
Schmidt's Google+ post discusses the "very limited" technology available in North Korea. Schmidt said that North Koreans are not allowed to use the Internet without someone watching them, and that it wouldn't be difficult for North Korea to connect its highly restricted networks to the World Wide Web — if, of course, the country weren't so paranoid.
Schmidt added that the government, military and university have access to open-source technology that the general public doesn't.
PCMag.com also discussed comments from Schmidt's daughter, Sophie, who joined her dad and former New Mexico governor Bill Richardson on what was dubbed a "private humanitarian mission." Authorities showed off a tablet that could access the Internet and featured a video chat platform,she wrote, adding, however, that the people in North Korea cannot afford such gadgets, and that North Korea is "building products for a market that doesn't exist."
Dotcom Launches Megaupload Successor
One year to the minute after his New Zealand home was raided by authorities, Kim Dotcom, founder of the now-seized Megaupload, launched a new-and-improved file-sharing site.
The new website, "Mega," started accepting public registrations at 6:48 a.m. Auckland time, the precise moment the first law enforcement helicopter touched down outside Dotcom's home — which at US$25 million was considered the most expensive abode in New Zealand. Reuters reports that the new site had more than 1 million visitors and 500,000 registered users within 14 hours.
The site's launch seemed designed to promote, yes, but also to goad authorities. Journalists and guests were invited to Dotcom's home to bask in the launch of Mega, which like Megaupload will allow users to upload, download and swap files. Dotcom, originally from Germany, also said that, unlike Dropbox and YouTube, Mega will let users encrypt files so as to prevent authorities from viewing content. He added that he hopes to list his new company on the New Zealand stock exchange.
Drama has reigned ever since the Jan. 20, 2012, raid on Dotcom's home, which was executed in collaboration with U.S. authorities who claim that Megaupload netted Dotcom $175 million in criminal proceeds. Last summer, a New Zealand judge ruled that the warrants used in the raid on Dotcom's home were illegal, and then a New Zealand court ruled that the FBI must fork over evidence before Dotcom could be extradited.
All that was followed by New Zealand's prime minister apologizing to Dotcom, and before U.S. authorities postponed the extradition hearing in what Dotcom claimed was an attempt to bleed his bank account.
Nokia Pushing 3D Printer Cases
Becoming one of the first electronics giants to embrace 3D printing, Finland-based Nokia is releasing design files that will allow users to build cases for its Lumia phone with 3D printers, according to the BBC.
The BBC reports that Nokia has already released files containing recommended materials, measurements and mechanical drawings, giving users the opportunity to build cases for the Lumia 820 handset.
3D printers utilize design files to build physical objects with layers of plastic.
The Nokia design files are only available to registered Nokia users.
Report: Apple to Roll Out Three iPhones in 2013
Unconfirmed, yes. But still potentially interesting.
Apple will introduce three iPhones during 2013 — the next-generation iPhone; a 4.8-inch "phablet"; and a third model with a 12-megapixel camera.
The news — or, if you prefer, the rumors — are reported by AppleInsider, which cites a Chinese-language article.
Reports already abound that Apple is planning a 2013 release of a cheaper iPhone targeted at Asian markets.