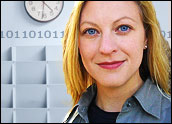 America's winemakers have won a victory for online wine sales in Kansas, but the legislative battle demonstrates the challenges that e-commerce, a key force for economic recovery, still faces from outdated thinking and entrenched political institutions.
Signed into law in April, 2009, Kansas Senate Bill 212 allows direct-to-consumer (DTC) wine shipments over the Web for state residents beginning July 1. A common-sense outcome to many, this victory was hard-fought in a state that previously banned all DTC wine shipments. The victory comes four years after the U.S. Supreme Court ruled unconstitutional those shipping rules that discriminate against out-of-state retailers.
Entrenched local wholesalers and retailers in Kansas quashed a 2006 attempt to liberalize shipping laws by financing a dubious voter survey to influence political opinions in an election year. They also pushed for onerous amendments that mandated online winery orders be shipped to retail liquor stores for pickup with a US$5 delivery tax. Shrewd political maneuvering by the brick-and-mortar distributors allowed them to retain their grip, but advocates for consumer choice are learning that the same techniques can be used to expand online economic freedom.
Boon for Silicon Valley
Leadership for this year's successful efforts came via the Wine Institute, an advocacy group that represents more than 1,000 California wine growers and affiliated businesses that produce 90 percent of the nation's wine.
With the most to gain from DTC reforms, the Wine Institute overcame the designation of an out-of-state interest group by strategically allying itself with local entities that favored lower regulatory burdens. These include the state farm winery association, which encourages industry expansion and tourism, and local elected officials, who seek more local permit control over special-event sales.
More access to variety in wine is likely to grow demand overall, actually helping to bolster local wine labels and increasing sales-tax revenue for public coffers. Through negotiation and compromise, green-lighting direct online wine sales became a win-win for Kansas consumers and California growers. This victory, however, does not end the fight for DTC liberalization. Fifteen states still prohibit online wine sales — but high-tech leaders can learn much from Kansas.
Silicon Valley has the most to gain from e-commerce expansion. The business systems and online applications used to facilitate sales transactions and digital traffic originate in the Valley, as do many digital goods such as downloadable multimedia, video games and personal software.
Persuasive arguments are often not enough to secure a favorable regulatory environment, as long-established interests and the status quo may oppose reform. By transcending labels and working with natural allies, tech companies can successfully frame the debate and score legal wins for the digital marketplace.
3.5 Percent but Growing Fast
It's important for e-commerce advocates to reject the tired "us versus them" stance, and insist that supporting favorable industry legislation is a nonpartisan issue that will create American jobs and keep Silicon Valley open for business, a powerful message at a time of high national unemployment and economic uncertainty. At the same time, tech companies should remain aware of the dangers.
Some financially faltering state governments are vying for legal changes that would require new Internet sales taxes to be collected by all retailers, and protectionist federal politicians are opposing H-1B visa expansion and outsourcing, reducing the Valley's talent pool. Such measures could shrink growth in online sales, which would be disastrous for the entire country.
According to the U.S. Census Bureau, American retail e-commerce sales in the first quarter of 2009 reached $31.7 billion, a number that has tripled over the last seven years. Though only 3.5 percent of all retail sales come from the Web, consider that as total retail sales estimates dip to 2005 levels, e-commerce sales are up more than 50 percent today.
Compared to brick-and-mortar retailers, Web sites such as Amazon.com and eBay.com provide lower startup costs, more business world efficiencies, and greater opportunity to create global sales — particularly benefiting entrepreneurs and small businesses, which are creating the majority of jobs and economic growth in America.
Kansas lawmakers responded favorably to the need for "good government," a concept that must be effectively defined if e-commerce advocates are to prevail. Overturning legacy regulations and entrenched interests will be necessary for the continued success of Silicon Valley firms and the hundreds of thousands of Americans who depend on Internet sales for their full- or part-time employment.
---
Sonia Arrison
, a TechNewsWorld columnist, is senior fellow in technology studies at the California-based
Pacific Research Institute
.
---