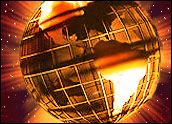 Perhaps the greatest invention of the 20th century is the hardware and software infrastructure that makes up the data communications system known as the Internet. It's led to revolutions in the way people and businesses communicate, advertise and sell.
Although the technology underpinning the Internet had been in development and use for several decades — and although by some definitions the Internet itself went online in the 1960s — it wasn't until the mid-1990s that the Web began to infiltrate people's daily lives.
In the 10-plus years since, the Internet has evolved and become an integral part of global society, changing the way people do nearly everything. Children born just 20 years ago have little knowledge of what it was like to live in a world where information, communication and entertainment was not available on demand.
Even those who lived through the transition to the digital age may have a hard time quantifying just exactly how much the Internet has impacted the world.
"The Internet is not going away. It's a powerful technology that has changed the world — impacting behaviors of consumers and businesses. The Internet has created new business models and new ways of doing business," Caroline Dangson, an analyst at IDC, told TechNewsWorld.
An Online World
The Internet, according to IDC, is the most heavily used medium in the United States. Users spend nearly twice as much time using the Internet as they do watching television, and 68 percent of Americans have Web access either at home, work, school or a public place. Nearly a quarter of U.S. households subscribe to an Internet service for which they pay an average of US$30 per month.
Of the many tools available online, search engines are the most popular, utilized by 84 percent of Internet surfers in the U.S. Among those currently available, Google currently reigns supreme in terms of popularity.
Mapping and navigation services are almost as widely used (83 percent); 77 percent use the Net for personal research. More than two-thirds of IDC's survey respondents conduct their banking online, and 41 percent have used Amazon and eBay to research or purchase items.
"The true power of the Internet is its ability to connect a user to information or another human," noted Dangson.
More than seven out of 10 Americans said they use e-mail, and 54 percent use social networking services.
Anywhere, Anytime Availability
Where once there was only the telephone, letters and the occasional telegram, now there is e-mail, instant messaging (IM), voice over IP telephony (VoIP), blogs and social networking, just to name a few.
The ability to communicate via the Internet radically changed how Susan Feldman, an IDC analyst and former small business owner, was able to connect with colleagues and clients.
Feldman watched as the Internet grew from its infancy. She began a small information and research business in 1981 and over the course of the next six years built up an ever-expanding network of other information professionals. The loose federation of information specialists eventually became a worldwide organization that was "held together by an annual meeting and our use of forums and bulletin boards like Compuserve," explained Feldman.
"While I had been doing online searches since 1971, the opportunity to communicate with others around the world changed how I — and all of us — did business. I had a Net address by 1989 because one of my clients was the Cornell Supercomputing Center — one of the four NSF (National Science Foundation)-funded nodes that made up the backbone of the Internet. They insisted on working with me on the Net," she told TechNewsWorld.
For small business owners, the Internet provided a greater reach, enabling them to conduct business on a global scale, something that had previously been the sole purview of large, multinational corporations.
"My clients were rarely local. From my small office in Ithaca, N.Y., I was able to do projects for the U.S. Senate, the Institute of Physics in the U.K. or Wilson Publications in New York. We talked on the phone to scope projects, but the files went back and forth as attachments or FTP (file transfer protocol) files," Feldman said.
Complicated Connections
The multiple avenues of communication opened by the Internet have made it easier for people to connect but at the same time have led to a more complicated and sometimes dangerous world.
"In some ways, we are more connected than ever before, and instead of spending our time in front of a TV being fed information we are feeding that information to ourselves," said Rob Enderle, principal analyst at the Enderle Group.
Internet users leverage the Internet to take care of tasks for which they would once have had to leave home — and that can be both good and bad.
"People do online banking," Feldman added. "They check for health information and become better informed. They shop online after checking the reviews of products. Social networks have begun to fill a role as well. People are both more connected and less social. That's a paradox, but with everyone as mobile as they are, you can keep in touch with friends and family instantly, but you don't see them much."
It's not an entirely positive evolution. Although people spend less time watching TV — opting instead to while away hours connecting with friends online — there is a disconnect between individuals that makes it easier for people to give way to their darker impulses. For an example, take a look at just about any political blog regarding the recent election — specifically one that gives readers free rein to post whatever responses and comments come to mind. It won't take you long to spot Americans from the left and the right of the political spectrum making remarks they would almost assuredly never have made had they not been protected by the anonymity the Internet automatically grants.
"The lack of physical connections has led to a growth in behavior that is antisocial and hostile — predators, pirates, thieves, and people that take way too much pleasure in activities like trolling and personal attacks," Enderle told TechNewsWorld. "In addition, we haven't yet learned to filter and check the information ourselves, so hoaxes and lies seem to have the same weight as information that is true, depending on how the information is delivered — sometimes even more weight."
Not all the changes the Internet has wrought have been for the better, agreed IDC's Dangson.
"As with anything man creates, there will be both good and bad uses for it. Some consumers are now being treated for online addictions related to porn and gambling," she pointed out.
It's also placed greater demands on businesses. Consumers have come to expect any company — regardless of its size — to have a deep, feature-rich Web presence and be open to communications 24/7.
"Physical presence is not enough these days. All businesses must be present on the Internet just to exist. Now many businesses are going beyond a Web page to add social media elements on their sites to allow customers to comment about their products and services and create a sense of online community for employees and customers," Dangson noted.
Changing Times
All these changes, she continued, have made life in the Digital Age both more complicated and easier.
"It's a mixed bag — we can now accomplish so much in little time, but we are now held to that standard and pushed to be even more efficient. The amount of information on the Web is overwhelming and there is a huge need for better filters," Dangson noted.
The push for greater efficiency and wealth of information is felt by everyone, whether they are a consumer or business.
For instance, when Feldman began her business in 1981, a 48-hour turnaround time was considered "superb." However, by the time she sold her business in 2000, that time had been cut to at best two or three hours — or even a matter of minutes.
"[It] changed work habits. Remote workers for traditional businesses are now common. More and more people are working from home, and at any hour of the day. Personal lives and work lives have become intertwined as we use the same devices for both work and personal uses — laptops, PDAs, phones, broadband connections," she pointed out.
With any new technology, there are always trade-offs, however.
"The most difficult one is that everyone has too many communication channels and no time to do anything properly. People are checking their e-mail at their kids' soccer games and not paying attention to their kids. Even on vacations," Feldman opined.
"There is too much information and much of it is useless or duplicated. Everyone blathers at all times of the day. So we have little time for thinking and reflection. People spend a lot of time shuffling all that information around, and privacy is a big issues because electronic information is so easy to pass around and so hard to protect," she added.