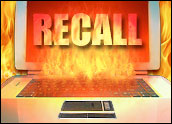 Taiwanese computer maker Acer announced a voluntary recall of 27,000 lithium-ion laptop batteries Wednesday. The batteries, the U.S. Consumer Product Safety Commission said, may overheat and pose a potential fire hazard to consumers.
"Acer advises customers to stop using these recalled batteries immediately and contact Acer to receive a free replacement battery," the company said.
With the announcement Acer is just the latest system manufacturer to recall the batteries produced by Sony. Dell was the first to do so in August 2006, with Apple, Toshiba, Panasonic and Lenovo quickly following suit.
Batteries Not Included
The recall was not a result of complaints from Acer's customers, according to the company, but a result of the 16 complaints the U.S. Consumer Product Safety Commission (CPSC) had received that were connected to the earlier recalls by other notebook computer manufacturers whose systems contained the Sony cells.
"None of these reports involved batteries in Acer notebook computers; however, the company is cooperating with the U.S. Consumer Product Safety Commission and Sony to act in the interest of customer safety," the company said.
The voluntary recall includes Acer's TravelMate and Aspire series of notebook computers. The systems were sold between May 2004 and November 2006. More information is available at a company Web page.
Acer said it will replace affected batteries at no cost to the customer. In the meantime, the company stated, customers may continue to use their notebook PCs by turning off the system, removing the battery, and powering the system via AC adapter and power cord until the replacement battery is received.
Low Battery
Dell recalled nearly 4 million batteries from its Inspiron line on last August, followed two weeks later by Apple. September brought a second round of recalls from Toshiba and Panasonic. Acer's recall comes some six months after Sony issued its own battery recall for its Vaio notebook computers in late October. Altogether, nearly 10 million batteries have been recalled since the problem first came to light.
The gap between the second set of recalls and Acer's recall Wednesday has many wondering whether the company purposely waited to issue a recall and, if so, why.
In the U.S., Acer is a much smaller organization, David Daoud, an analyst at IDC, told TechNewsWorld, with a much smaller market share, though it is growing.
"It certainly took much longer for both Acer and the U.S. Consumer Product Safety Commission, considering that it is a tiny base of consumers affected. Compared to other vendors who recalled millions, Acer is recalling 27,000, and that's a drop in the bucket compared to what the U.S. market absorbs," Daoud explained.
For its part, Acer said that it has been working in cooperation with the CPSC. Before the agency could issue a recall, it had to make sure that Acer had the necessary logistics, including phone support, a Web site and a fix available for consumers at the time the recall was announced, Scott Wolfson, a CPSC spokesperson, told TechNewsWorld.
"You only hear about a recall from CPSC the moment it is done and ready to go," Wolfson explained. "When we announced the Acer recall yesterday, they had everything in place to ensure that when a consumer heard about it, [Acer's] phone lines are working, remedies were available and the Web site was working.
"Those are all the internal details that we insist must be done before the public announcement was made," he continued. "We truly want all the pieces to be in place at the time of the recall."
Battery Backlash
Acer is the fastest-growing computer maker in the market. The company's first quarter 2007 sales increased 46.1 percent from the year, according to a Gartner report. The 4.28 million PCs sold in the first three months of 2007 enabled Acer to pass China-based Lenovo to take over the No. 3 spot.
Daoud does not expect the battery recall to negatively affect Acer's sales.
"This is largely considered a Sony problem at this stage, considering that all leading and small notebook vendors have also faced the same problem, but managed it well," he said. "So I do not anticipate a backlash against Acer.
Repercussions for Sony are another thing entirely, Daoud explained. Sony is under considerable pressure to fix its technology and manufacturing processes. Meanwhile, PC makers will have to look for alternative suppliers — Sony's competitors.
"For now its too early to say Sony has lost in this affair," Daoud noted. "Short term, certainly it is a big setback for the Japanese company, but longer term, [Sony] could rebuild confidence as it comes up with safer and efficient batteries."
Over time, Daoud said, the recalls will result in improved technology for batteries so that they are more efficient and safer.
"Battery technology will only get better, more efficient and safer as a result of these incidents," he stated. "And the next level of technology should benefit users not only from a safety perspective but from the efficiency standpoint, including reduced energy use."