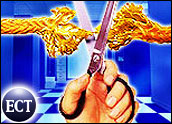 Just days before a May 9 congressional oversight hearing into the Bush administration's violations of the Endangered Species Act and censorship of science, a top-ranking Interior Department official resigned Monday.
Julie MacDonald was the assistant secretary of fish, wildlife and parks, responsible for overseeing the entire U.S. Fish and Wildlife Service endangered species program.
MacDonald used her position to squelch the protection of endangered species by rewriting scientific reports, bullying U.S. Fish and Wildlife Service employees, and colluding with industry lawyers to generate lawsuits against the Fish and Wildlife Service, according to the Center for Biological Diversity.
The result, the group stated, was that she stripped tens of millions of acres from proposed "critical habitat" areas and worked with industry groups to remove species from the endangered list and from federal protection.
'Reign of Terror'
"Julie MacDonald's reign of terror over the U.S. Fish and Wildlife Service is finally over," said Kieran Suckling, policy director with the Center for Biological Diversity. "Endangered species and scientists everywhere are breathing a sigh of relief."
An Interior Department Inspector General report, released in March and prompted in part by information submitted by the Union of Concerned Scientists (UCS), criticized MacDonald for overriding recommendations of Fish and Wildlife Service scientists about how to protect endangered species and for leaking information to the private sector. In several cases, her interference resulted in changing a "positive" finding in favor of protecting species to a "negative" one, UCS officials said.
MacDonald was trained as a civil engineer, and has no educational background in biology or the natural sciences.
A Long Time Coming
"Animals are out there cheering," Earthjustice attorney Kristen Boyles told TechNewsWorld. "MacDonald has been the center of a lot of firestorms around suppression of science, misuse of the political process and leaking documents to parties who shouldn't have them."
"Of course we're celebrating," Bill Snape, senior counsel for the Center for Biological Diversity, told TechNewsWorld. "But my first response is: Why did this take so long? After the Inspector General report, you have to wonder why she was not summarily fired for multiple conflicts of interest and absolutely bizarre professional behavior. She's a woman with no interest in following the law, and an agenda that's pro-industry above all else."
The Bush administration has listed fewer species under the Endangered Species Act than any other administration since the law was enacted in 1973. While the Clinton administration listed 512 and the first Bush administration listed 234 species, the current administration has listed only 57, according to the Center for Biological Diversity.
Widespread Censorship
A widespread problem turned up in a February 2005 UCS survey of Fish and Wildlife Service scientists. Two thirds of respondents — 303 scientists — knew of cases in which Interior Department political appointees interfered with scientific findings. Eighty-four scientists reported that they were told to inappropriately change or exclude technical information from agency scientific documents.
"I don't think we can stop worrying about that happening because one person leaves the agency," Boyles said. "MacDonald's resignation is certainly a good first step, but we need to continue to press the Fish and Wildlife Service and others to get back to their fundamental mission of science-based policies and protections."
Deep-Rooted Problem
"The power goes much deeper than MacDonald," agreed Snape. "I think the ultimate question is: If she's the attack dog, who's the general? Appointees in the Interior Department are clearly White House picks, and they're out of sync with what the majority of Americans want for protecting our natural resources."
"It's important to emphasize that this does not solve the problem," Francesca Grifo, scientific integrity program director for the UCS, told TechNewsWorld. "The incidents she was involved in are not isolated — they exist across the government."
Indeed, Grifo's organization has documented almost 700 scientists who say they fear discussing their mission-driven work because of retaliation, she added.
It remains to be seen whether Interior Department Secretary Dirk Kempthorne will be able to "clean up" the Interior Department, Snape added, or whether he's at the mercy of the White House.
"The bright side," noted Grifo, "is that this got Congress' attention."
Sunshine Needed
For the future, environmental and scientific organizations say that the process needs to be opened up so that this type of censorship and bullying behind closed doors can no longer happen.
"There needs to be sunshine," Grifo said, "because too many of these processes across the government are closed to public scrutiny."
Interior Department scientists need to be guaranteed final review of their work before it is released, Grifo said, and there needs to be transparency in the decision-making process.
"The best thing is to open it up to the media, to advocacy groups and to public scrutiny," she concluded. "After all, we're all the ones paying the bill."