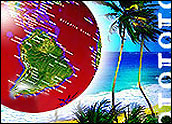 Rajiv Shah, the administrator of the U.S. Agency for International Development, defended a Twitter-esque social media site created by the agency, saying it was an attempt to nurture communication on the island — not, as has been claimed, a way to collect data and incite a revolt.
Appearing before the Senate and House appropriations subcommittees, Shah said the "programs are part of our mission to promote open communications." He added that the agency has financed similar programs in Latin America, Asia and Africa.
There were no covert intentions behind the program, Shah stressed, perhaps trying to allay concerns that the program was a bit on the shady side. That is how it appeared to some.
Last week, for example, the director of U.S. affairs at Cuba's Foreign Ministry said that the program "shows once again that the United States government has not renounced its plans of subversion against Cuba."
Also, the network was built using secret shell companies and was financed via a foreign bank, according to The Associated Press, part of the reason some have opined that it was a "digital Bay of Pigs."
[Source: The New York Times]
EU Court Makes Snooping Harder
The European Court of Justice, the European Union's top court, on Tuesday ruled that EU citizens should not be subjected to incessant law enforcement surveillance.
The ruling spells the end of the 2006 data retention directive, which required telecommunications companies to store phone calls or online communication for between six months and two years. That legislation, however, was deemed too broad and sans proper privacy safeguards. It was, the court said, a "particularly serious interference with fundamental rights."
Governments still maintain, however, that they need access to phone records to prevent and investigate serious crimes. Thomas de Maiziere, the Interior Minister of Germany — which has been among the most vocals anti-snooping nations in the wake of Edward Snowden leaks — urged that the EU quickly agree on narrower legislation that enables legitimate crime-fighting to take place.
[Source: The Associated Press]
China Begins Life Post-XP
China is among the countries most affected by Microsoft's decision to end support for Windows XP.
An estimated 200 million of China's computers, or 70 percent of the nation's total, use XP, according to Chinese news agency Xinhua; StatCounter puts the number at about 50 percent. At any rate, XP is still a pillar of China's computer world.
An estimated 4.4 percent of the world's Internet users still use Internet Explorer 6, the default browser that shipped with Windows XP. Seventy-seven percent of all IE6 users are in China.
[Source: Tech In Asia]
Intel Shutters Costa Rica Op
Chipmaker Intel is nixing 1,500 jobs and closing its assembly and test operation in Costa Rica.
The company has been hit hard by the shrinking PC market, and the Costa Rica move is part of a larger plan to cut spending and penetrate the mobile market. Intel plans to move assembly and testing done in Costa Rica to sites — already up-and-running — in China, Malaysia and Vietnam.
Intel execs reportedly met with Costa Rican President-Elect Luis Guillermo and assured him that its decision was not in response to Sunday's election of a new government.
[Source: Reuters]