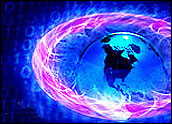 A U.S. Air Force space vehicle called the "X-37B" that caused "conniptions among Chinese space bloggers" during its first mission last year, according to Heritage Foundation Chinese political and security affairs research fellow Dean Cheng, is being prepared for its second mission launch on Friday.
What that mission will entail, however, remains a mystery, in keeping with the space plane's James Bond image.
"The X-37B doesn't operate by the usual space travel rules," said Bill Sweetman, editor-in-chief of Aviation Week'sDefense Technology International .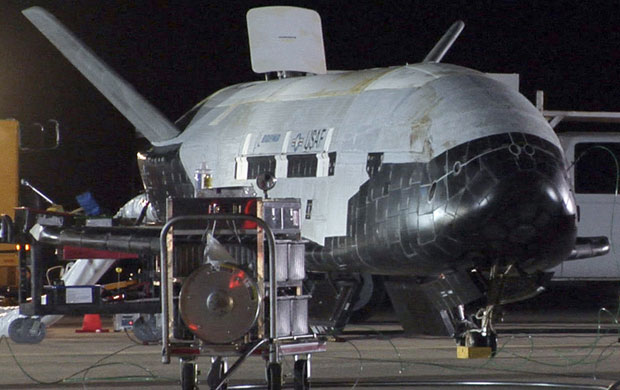 The Air Force's first unmanned re-entry spacecraft, X-37B Orbital Test Vehicle, landed at 1:16 a.m. Dec. 3, 2010, at Vandenberg Air Force Base, Calif. The X-37B conducted on-orbit experiments for more than 220 days during its maiden voyage. (U.S. Air Force photo/Michael Stonecypher)
Space Shuttle, Jr.
Originally conceived in the mid-1990s as a classified project called "Refly," the shuttle-like X-37B became part of a military space plane project to create a reusable, suborbital unmanned vehicle that could do everything from carrying payloads to launching satellites.
Another member of the X-plane family, the X-41 was a "hypersonic glide bomb — an intercontinental weapon," Sweetman told TechNewsWorld.
Set to lift off from Cape Canaveral, Fla., atop an Atlas 5 rocket, the X-37B — which resembles a junior version of larger shuttles such as Discovery and Endeavour — "has always been aimed at Air Force interests," Sweetman explained. "NASA was never much interested in the concept, probably because the X-37B and its brethren don't carry human astronauts."
Basically a space-sojourning "truck," the X-37B "is like a reusable satellite," Sweetman said. "It carries a solar array and a cooling system, and so can accommodate and power a payload."
Possible payloads might include imaging devices such as cameras; radiation monitors; robotic arms; and "more than one way to put an enemy satellite out of orbit," Sweetman said.
Hence, the Chinese blogosphere's concern. "It's my understanding that simply by spraying a satellite black, you can put it out of action because it will overheat very quickly," Sweetman told TechNewsWorld. "Imagine a remote-controlled spray painting machine taking out a satellite beyond radar range. Not to sound too conspiratorial, but once the satellite went down, it would look like an accidental failure."
Joyless Flight
The X-37B is roughly 29 feet (9 meters) long and 14 feet (4.5 meters) wide. What's more, "there is no one on the ground with a joystick flying it," said X-37B program manager Lt. Col. Troy Giese prior to the first X-37B mission, which departed last April and returned in December.
"It's basically preprogrammed, but mission control still has tight controls over its movements," Sweetman said.
When it's time for the X-37B to come home, all that's required is transmission of a command that prompts it to perform a deorbit maneuver, Air Force spokesperson Maj. Tracy Bunko explained.
It then "autonomously calculates course corrections and manages its energy in order to safely land on the designated runway," she told TechNewsWorld. "When the X-37B is within line of sight with the landing base, telemetry is transmitted from the vehicle to the local control center reporting vehicle performance and status."
Although the X-37B can carry out its landing orders without any assistance, range safety controllers can "terminate the flight if necessary," said Bunko.
Fuzzy Agenda
Air Force officials have repeatedly denied the space plane may become a space weapon, but their reticence about its true intentions has only increased speculation, creating a veil of secrecy University of Missouri peace studies professor Bill Wickersham finds troubling.
"My understanding — which is very limited — of the X-37B is that it is part of the U.S. Air Force Space Command's total spectrum dominance program, which plans to use offensive weapons in orbit," Wickersham told TechNewsWorld.
As part of the Defense Advanced Research Projects Agency (DARPA), the X-37B also shares in a "black box budget I am very uncomfortable with, estimates of which range from (US)$30 billion to $100 billion per year," Wickersham explained.
Any vagueness about its purpose is simply due to the fact that it's an experimental test program, suggests the Air Force.
"It is important to remember that the X-37B itself is a new technology," said Bunko, "with state-of-the-art thermal protection systems and tiles, solar power systems, environmental modeling and, of course, its autonomous control and landing — and those are all being tested and evaluated at this stage in the program."
Among the types of missions it could support, she said, are technology maturation or validation; intelligence, surveillance and reconnaissance; on-orbit servicing; and satellite deployment and/or retrieval.
As for the mystery about precisely what the Air Force has planned for the X-37B's second mission, that's part of what makes it unique, said Aviation Week's Sweetman.
"It's versatile enough to do any number of things," he said. "It can also operate out of range of enemy radar, where it can't be observed, on the dark side of planet Earth."