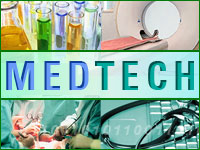 "Smart" computerized hospital beds may become a standard of care if negotiations between John LaCourse — professor and chair of the Department of Electrical and Computer Engineering at the University of New Hampshire — and hospital bed manufacturers bear fruit.
An algorithm LaCourse invented programs the smart bed to communicate with and respond to medical devices that monitor a patient's condition, permitting fast, automatic responses that could prove especially valuable in the wee morning hours, when fewer staff are on hand, or whenever they are busy with other patients.
A sleeping patient's movements might cause a blood pressure drop, for instance, that a monitor would communicate to the bed which, in turn, would move up or down until the patient's blood pressure became stable.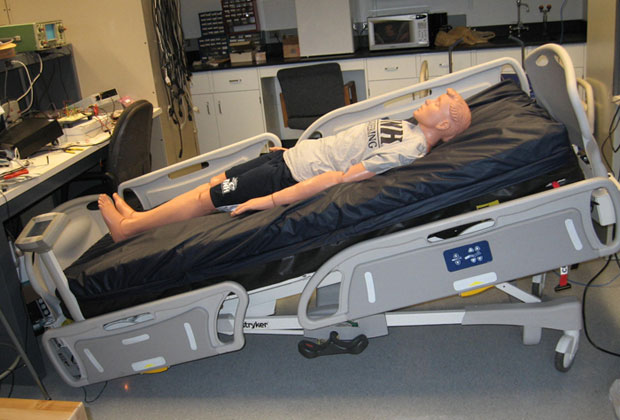 Smart hospital bed can make automatic adjustments to improve patient care.
"Procedures such as retinal surgery require exact blood pressure levels as part of the healing process," LaCourse explained. "A smart hospital bed would periodically adjust itself to maintain these levels for patients."
The bed could also discern between real and fictitious readings.
"Someone sits on the edge of the hospital bed, and it appears that the patient's blood pressure has fallen," LaCourse explained. "The bed would send a signal to the monitor not to be alarmed — the reading is due to the visitor's presence and not because the patient's condition has deteriorated."
Quality-of-life conditions such as bed sores could also be addressed. "Instead of requiring hospital staff to move the patient, monitors could send signals to the bed to roll the patient to his left or right to avoid bed sores," LaCourse told TechNewsWorld.
Snoring Cure?
Sleep apnea — halted breathing that is a prime suspect in snoring — responds well to movement. But figuring out when breathing has stopped isn't easy, because the person is asleep. Turns out technology has a solution.
"Microprocessors installed in the bed measuring respiration patterns will sense when breathing has ceased, as well as move the bed in such a way that the individual resumes breathing," said Jon Waters, who is working with Bedford, NH-based Ixxat on sleep apnea research.
"Some research has indicated that patients who suffer from obstructive sleep apnea experience fewer apneas when sleeping on their side, as opposed to sleeping on their back," Waters told TechNewsWorld. "The bed I was working with has a patient roll feature, and I demonstrated the possibility that it be automated because the main goal was to show that an automatic bed movement could be triggered when apnea is detected."
Plug and Play
LaCourse hopes to incorporate a concept familiar to techies — plug-and-play — into his smart hospital bed.
In this environment, "plug-and-play" means that medical devices from blood pressure monitors to breathing machines "share a common technology so they can, in effect, talk to each other and share patient information, which greatly reduces care errors," explained LaCourse.
To realize plug-and-play capability, however, LaCourse's bed automation algorithm must become an industry standard for hospital bed manufacturers. Otherwise, medical device manufacturers will have little incentive to build seamless connectivity into their products.
On that score, so far, LaCourse says, so good.
"We've had discussions with two major bed manufacturers — Stryker and Hilrom — and both were receptive to our protocols," he explained, adding that he predicts major progress within two to three years.
"The research and licensing process takes years to complete," said UNH Office for Research Partnerships and Commercialization licensing manager Maria Emanuel. "Two to three years for Dr. LaCourse's technology to come on line means that his project is moving along fairly quickly."
Practical Preprogrammed Prototype
Until bed manufacturers come online, LaCourse and his team have been working with a prototype in the University of New Hampshire's Bioengineering Laboratory. They've tested it for positive benefits, but also negative side effects — a concern in any area of patient care.
Such side effects might include motion sickness and the woozy feeling an especially ill person might be prone to on such a moveable bed.
"The intent of the bed movement is not necessarily to oscillate the bed up/down/back/forth, which could potentially be uncomfortable," Ixxat's Waters told TechNewsWorld.
Overall, LaCourse sees "no downside" because the physician remains in control at all times.
"The physician would choose preprogrammed bed movements or program the bed movements," LaCourse explained. "Therefore, the physician would determine the risks and choose the best bed-movement options."
So much university research has an impractical side that UNH's Emanuel is especially pleased with the smart bed's immediate practical potential.
"It's representative of the research being done at UNH — laboratory work which is meaningful for society," she told TechNewsWorld. "Dr. LaCourse's efforts could lead to significant improvements in patient care."
"I am always looking for what else is out there," LaCourse added. "How I can take a product idea, build it, and create something that helps humanity."