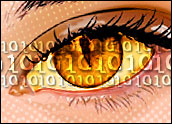 Aptly named Tobii Technology — spelled with not one, but two "i's" — unveiled the world's first eye-controlled laptop at CeBIT Tuesday.
Developed with computer manufacturer Lenovo, the laptop uses Tobii's eye-tracking technology to enhance interaction at a glance. Eyeing points on the screen releases information from icons and gadgets, zooms pictures and maps, switches between open windows, and browses email and documents.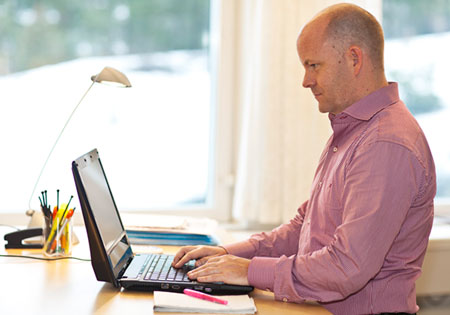 In this image, Henrik Eskilsson, the CEO of Tobii Technology, controls the computer with his gaze.
The Tobii technology also comes with an energy-saving green feature: The screen automatically brightens from auto-dim when a user first looks at it.
The eye-recognition concept continues a push toward more natural interfaces that has seen a variety of motion-controlled products such as Microsoft Kinect recently introduce new interactive features.
"What we find most exciting are the opportunities that eye control as part of natural user interfaces offers consumer electronics manufacturers in a range of product categories," said Barbara Barclay, general manager of Tobii North America.
On the laptop, however, eye control is limited to a few simple tasks that, up until now, have been hand controlled — or for some quadriplegics with specially fitted keyboards, controlled by mouth with a joystick-type device.
"Using our eyes to point, select and scroll is completely intuitive, and complements traditional control interfaces, such as the mouse and keyboard, in a very natural way," said Tobii spokesperson Sara Hyleen.
Eye Spy
Eye-recognition technology has been a common, almost cliched, feature of science fiction and spy movies for decades. A computer recognizes a user's unique "eye print," then opens secret files, a safe door, or access to a devastating weapon.
Until recently, however, eye recognition hasn't been a practical consumer application. Rather, it's been both expensive and esoteric, a situation the right partnerships are starting to change, Tobii CEO Henrik Eskilsson explained.
"More than anything else, the Tobii laptop prototype is proof that our eye-tracking technology is mature enough to be used in standard computer interfaces," said Eskilsson. "To reach a state where the technology is part of the average computer, we need to make it smaller and cheaper. We believe that this can be realized in a couple of years by partnering with the right manufacturer."
The Tobii-Lenovo partnership is rolling out 20 eye-controlled laptops, split evenly between the two firms for development and demo purposes, Hyleen told TechNewsWorld.
The next step involves stepping back and watching — as consumers watch their monitors.
"We anticipate people will be extremely excited to be able to control their computer with their eyes," Tobii's Barclay explained.
For people already used to staring at a computer screen all day, controlling the action with those same two eyes may be more headache than head rush, however. Technology public relations specialist Richard Laermer told TechNewsWorld that his eyes hurt just thinking about the idea.
Not so, maintained Tobii's Hyleen. "Most users adopt to eye control very quickly."
You don't have to do anything besides look, she pointed out, so it's "not very different from what you already do when sitting in front of a computer screen. Also in this sense, it is truly relaxing."
Eyes Left
The technology might be a little clunky. The prototype lacks laptop portability, hampered by a large hump on its back and an inch-wide strip below the display, both of which accommodate the machine's eye-recognition sensors.
For persons with disabilities, though, the Tobii-Lenovo laptop may represent a substantial breakthrough.
Reports from CeBit indicate the Beta rollout works well enough that great eye coordination isn't necessary. Observers at the product demonstration were able to target small gadgets such as a calculator with little eye-screen calibration, including a frequently-used media quick bar accessed by looking beyond the screen's left side.
The demonstration even included a Superman-style asteroid video game. The object: Blow up asteroids before they impact Earth just by looking at them.
"The smallest rocks were only a few pixels wide, and we could consistently blast 'em," wrote a reviewer at Gamrconnect who partook in the CeBit demo. "The verdict? It works extraordinarily well."