If the Department of Homeland Security has its way, cellphones will soon do more than transmit calls, GPS information and a host of data from the Web. They'll also monitor the air for toxic substances that could be part of a chemical warfare attack.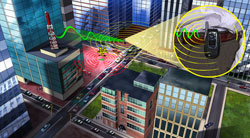 Anywhere a chemical threat breaks out — a mall, a bus, subway, or office — Cell-All will alert the authorities automatically. (Image by Paul Wedig. Click to enlarge.)
Just as antivirus software springs to life when it spies suspicious activity, so Cell-All, from the DHS Science and Technology Directorate (S&T), regularly sniffs the surrounding air for certain volatile chemical compounds.
When a threat is sensed, a warning is delivered in one of two ways. For personal safety issues such as a chlorine gas leak, a warning is sounded; users can choose a vibration, noise, text message or phone call for their alerts. For larger-scale catastrophes, such as a sarin gas attack, details including the time, location and compound are sent to an emergency operations center.
Qualcomm, LG, Apple and Samsung
Detection, identification and notification all take place in less than a minute, DHS says.
"Our goal is to create a lightweight, cost-effective, power-efficient solution," said Stephen Dennis, Cell-All's program manager.
Toward that end, S&T is pursuing cooperative research and development agreements with Qualcomm, LG, Apple and Samsung. The hope is to have 40 prototypes in about a year, focusing first on detecting carbon monoxide and fire.
Technologists from Rhevision, meanwhile, have developed an "artificial nose" that's essentially a piece of porous silicon that changes color in the presence of certain molecules and can be read spectrographically.
Cell-All will operate only on an opt-in basis and will transmit data anonymously, DHS stressed.
Like-Minded Efforts
There's already at least one effort to recruit citizens in monitoring air quality — French Montre Verte, which uses a wrist device specially equipped with not just a time piece but also a GPS chip, a Bluetooth chip, and ozone and noise sensors, as Springwise reports.
There have also been separate efforts to use cellphones to monitor localized rain patterns and to keep tabs on traffic, Johannes B. Ullrich, chief technology officer with the SANS Internet Storm Center, told TechNewsWorld.
Yet while such crowdsourcing efforts may "sound cool," he noted, the trick will be making the technology work as intended.
'The Question of Who's Paying'
"The problem I see is how people will feel about having sensors in their phones," Ullrich said. "They must have additional circuity there, and that costs money, so there's the question of who's paying."
Often, another problem with such sensor technology is a high incidence of false positives, such as might happen if a person were to hold the phone too close to the exhaust from a car, Ullrich added.
Of course, the crowdsourcing aspect could reduce that problem, he pointed out, allowing officials to hold off on sending a hazmat team, for instance, until enough phones in the same area had sent in alerts.
'It Will Be a Niche'
Indeed, "while the idea sounds like a good one, I think for it ever to fly, Homeland Security would need to convince citizens that this would be in their best interest," Allen Nogee, a principal analyst with In-Stat, told TechNewsWorld. "That might be a hard sell, and even if it only costs a dollar, with over 100 million new handsets shipped in the U.S. alone, that's $100,000,000 for just sensors."
Even if customers have to pay just a penny more for the technology, "I can't imagine anyone will use it," telecom and wireless analyst Jeff Kagan agreed.
"If we have an attack, all of a sudden everyone will interested," Kagan predicted. "Until then, it will be a niche."
A Radioactive Approach
Although science is "incredible," there are so many types of potential risks out there — from chemical to biological to radioactive — "it's impossible to even scratch the top here," Nogee pointed out.
Sensors using radioactivity might be a better approach, he added.
"Such sensors are cheap, and the risk of a false alarm is pretty low," Nogee said. "And in this case, knowing the location and readings from a wide range of users would be very helpful.
"So forget the chemical and other types of sensors that never would be feasible," he concluded. "A radiation monitor would be the best to explore, but even the feasibility of that is even in question."