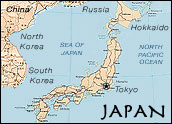 Japan invited hackers — nice ones, that is — to go to town on the nation's government departments Tuesday.
The move is designed to expose weaknesses in cyberdefenses and bolster national security ahead of the 2020 Olympics, which will be held in Japan. Britain employed a similar strategy ahead of the 2012 Olympics in London.
Japan enlisted 50 cyberdefense specialists to gather at an emergency response center in Tokyo; an additional 100-plus were stationed offsite as they sought to defend against a simulated attack against 21 state ministries and 10 industrial applications.
Japan also is revising its cybersecurity policies to streamline responses to a possible attack.
Japan is behind the U.S. in terms of cybersecurity, according to Ichita Yamamoto, the cabinet minister in charge of IT policy.
[Source: Reuters]
Google Gives Golden Flags for YouTube
Google has bestowed special flagging privileges upon 200 people and organizations whose warnings about inappropriate videos will carry extra weight.
Any user can flag a YouTube video, but complaints from the honored flaggers, including a British police unit, will be reviewed immediately. These folks also can request reviews of up to 20 videos at once.
Fewer than 10 of the 200 participants are NGOs or government agencies, and are instead people who, well, ingest a lot of YouTube. Google will, however, review all flagged videos, so it's not as though the group of 200 carries weight to simply nix content.
It can be tricky business determining which YouTube flags are legit. In early February, a YouTube video from the Australian Prime Minister was removed after numerous people — presumably mischievous haters of the PM — flagged the video as spam.
[Source: The Wall Street Journal]
Apple to Sell 8-Gig iPhone 5c
Apple reportedly has launched an 8-gigabyte version of the iPhone 5c.
The 5c, announced last year, originally had 16 gigabytes. The new version, however, with just half that capacity — is cheaper than its 16-gig cousin.
Reports surfaced Monday that the iPhone 5c has not caught on in China, so it could make sense that Apple is looking for a sales edge.
[Sources: Caschys Blog and Engadget via The Los Angeles Times]
China Could Expand Crackdown on E-Payments
A few days after China's central bank called for a halt to payments made by scanning a QR code, Chinese regulators reportedly are drafting legislation that would prohibit using e-payment services for one-off purchases north of RMB 5,000, or roughly US$800, and monthly purchases of more than about $1,600.
The rules also would apply to so-called virtual credit cards, which are — or at least had been — catching on in the Middle Kingdom.
Chinese tech companies, including WeChat and Alibaba, have been bolstering their mobile payment options, so Beijing pulling back the reins wouldn't be good news for them.
[Source: Marbridge via Tech In Asia]
Astronomers Find Big Evidence for Big Bang
Astronomers have found what they believe is the first-ever direct evidence of cosmic inflation, the theory underpinning the idea that the universe was created by a Big Bang some 13.8 billion years ago.
If the discovery holds up, it would give researchers an unprecedented understanding of the Big Bang and what happened immediately thereafter.
This would go down as the most important discovery since 1998, when scientists figured out the expansion of the universe was accelerating, Harvard astronomer Avi Loed told Space.com.