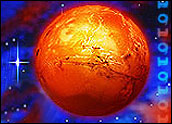 An international crew of cosmonauts and astronauts reached orbit around Mars Thursday, marking a major milestone on a 520-day simulated journey to the fourth planet from the Sun.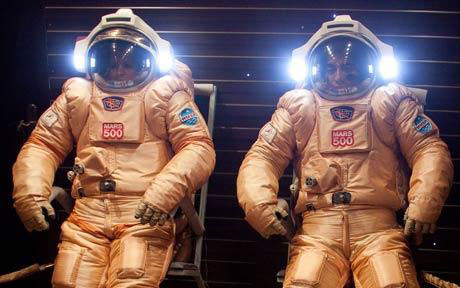 Mars500 crewmembers testing the Russian Orlan suits before their mission started in early June 2010. (Photo: IBMP/Oleg Voloshin)
Now 245 days away from Earth, Mars500 crew members from Russia, France, China, Italy and Colombia are scheduled to land Feb. 12 with simulated trips to the Martian surface.
A European Space Agency (ESA)-sponsored venture, "Mars500 is the most realistic space flight simulation possible without leaving the ground," explained ESA human space flight directorate communications officer Rosita Suenson.
Simulated missions, or dry-runs "are always very important, even in early stages when we do not know specific details about what space vehicle or propulsion system will bring humans to Mars," said University of Southern California astronautics and aerospace engineering professor Michael Gruntman. "Such experiments can uncover important problems and challenges which — if not addressed — may ruin the real mission many years later."
Virtual Cosmology
Though the flight to Mars is real in every way possible on Earth, the six-man crew is actually parked in a simulator at the Institute for Medical and Biological Problems in Moscow, Russia. At an orbit-dependent 36 million to more than 250 million miles (58-402 million km) from Earth, Mars is far enough distant that simulated missions are necessary to address concerns about stress, claustrophobia and fatigue.
"Long duration flights without a possibility of abort have never been tried," USC's Gruntman told TechNewsWorld. "In addition, designing the mission and space hardware right in the beginning is a very effective and cost-efficient way for space missions. Making changes in design later is always very expensive and causes delays."
The Earth-bound voyagers will leave their simulated craft for an eight-day rendezvous with the planet surface, flying home Feb. 28.
"The program's emphasis on realism extends to the mission's first Mars walk — stepping from a mock lander into a simulated Martian environment, overseen from Russia's real-life Mission Control Center," Suenson explained. "Further adding to the realism, space-suited crewmen and controllers alike will be working around a 20-minute communications delay — the time it takes radio signals to travel between Mars and Earth."
Martian Chronicle
From The War of the Worlds to The Martian Chronicles, Mars has fascinated humans for eons, even promising intelligent Martian life as the 19th century became the 20th. But the idea of sending humans to the Red Planet is getting dated, especially as robots have proved they can cost-effectively explore Mars with far less potential peril.
"I remain surprised by the emphasis on sending humans to Mars," said University of Missouri Vice Chancellor for Research Robert Duncan, a physics professor.
"Generally, I think it makes more sense both economically and ethically to send robots," Duncan told TechNewsWorld. "Simulations with humans can duplicate many important factors such a journey might encounter, but even the best simulation cannot duplicate the huge dose of radiation humans would receive on the voyage. Robots aren't subject to such perils."
Other worlds, too, beckon first, including the moons of Mars, Phobos and Deimos, said Simon Fraser University PolyLAB director Stephen Braham, who cofounded the Mars Institute and is a senior researcher for the Canadian Space Agency-funded MarsCanada project.
"We are all looking at new and exciting destinations in the solar system for short-term exploration, and are not planning on landing humans on the moon or Mars for awhile," Braham told TechNewsWorld. "These new deep space mission opportunities include EML-1 — a point between Earth and moon where gravity balances out — and near-Earth asteroids. From these locations, we can easily operate robots to explore planets efficiently, without having to risk humans or spend a lot of money."
At a potential cost MU's Duncan estimated at roughly US$1 trillion, a lot of money is what it will take to land humans on Mars. "Compare that to the $150 million total cost of the Martian rovers," he said.
High costs don't mean human space exploration is over, however, and Braham emphasized that "eventually, we will get a lot more bang for the buck by landing humans." Meanwhile, the Mars500 simulation will provide "psychological and other lessons that may well help us understand issues for other deep space missions as well."