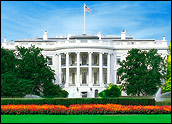 Just days after his inauguration, Barack Obama will apparently be the first U.S. president to use a smartphone while in office.
White House Press Secretary Robert Gibbs told reporters Thursday that the new president will use a BlackBerry to stay in contact with a circle of senior staffers and close friends, despite concerns expressed earlier by the U.S. Secret Service and the National Security Agency.
"Like many executives, he's going to get what he wants. I think it's amusing that just like in corporate America, you have executives who say what they will and will not do, and it is the people who support the technology who have to work around that. That's how a lot of devices get into the corporate environment in the first place. It's interesting to see this play out in the public sector," Jonathan Penn, an analyst at Forrester Research, told TechNewsWorld.
While Gibbs is reported to have used the the term "BlackBerry" in referring to the device the President will use, speculation in the blogosphere kicked off by a post Wednesday on the Atlantic Online suggests that it could be either an actual Research In Motion device featuring souped-up encryption or the Sectera Edge, a secure handset from General Dynamics.
Possible Alternative?
The Sectera Edge was developed for the NSA's Secure Mobile Environment Portable Electronic Device (SME PED) program. It features one-touch switching between classified and unclassified PDA functions; wireless access to the Secret Internet Protocol Router Network (SIPRNet), the secure computer network used by the Department of Defense and State Department to transmit classified information; and an intuitive, user-friendly interface, the company said.
The president would be able to use the Sectera Edge to make secure phone calls via the Secure Communications Interoperability Protocol (SCIP) and access secure networks. The device can can also cruise the Web over high-speed GSM or CDMA cellular networks worldwide. The handset includes contacts, a calendar, tasks, alarms and notes as well as an attachment viewer.
If by 'BlackBerry,' You Really Mean BlackBerry …
If the president wants to keep his BlackBerry, however, it is possible to add encryption and authentication on top of the device, noted Penn. However, that layer of security only covers one aspect of the risk associated with a chief executive carrying a mobile device.
"He can't really use it for business purposes. There are all these issues around retaining the e-mails and other risks surrounding losing the device. If anyone took the device and knew who it belonged to, it would be worth the resources to try and crack the encryption," Penn said.
"They want to make sure that nothing official is stored on the device so that if it is compromised that it doesn't result in divulging U.S. secrets, policy deliberations or anything that can be damaging to the administration or U.S. policy. This comes down to a matter of policy. He wants to keep his connection to friends and others, so don't use it for business but for casual contacts. There are a whole lot of issues other than the device getting compromised that you have to worry about if he's using it for official business," Penn continued.
No matter what device Obama eventually winds up with, it will set a tone for future presidents.
"He's tech-savvy and wants to keep his devices, but what he's doing now will set a precedent for years to come. He's a target. Even if they take the device away, it's not practical to say you have to cease use of all technology. They need to adopt it in a way that gives you a mechanism to protect the information and applications," Penn concluded.