TechNewsWorld's All Things Appy column regularly looks at the best free apps for our devices. Today we dissect the top five, must-have Windows 8 apps within the Lifestyle genre.
Need to check on the weather, monitor what those pesky celebrities are up to, wake up, control your games console or work out? Read on, then, for a look at our recommended, essential tools — all with the wonderful, idiosyncratic slant that's available only within the app environment.
About the Platform: Apps are downloaded from the Windows Store. Click on or touch the Start page store tile and browse to the category that you'd like to check out. Or, search for an app by choosing the Search charm's icon.
No. 1: AccuWeather for Windows 8

The AccuWeather for Windows 8 app is rated 4 stars out of a possible 5 with 3,881 ratings in the Windows 8 Store.

Gorgeous weather graphics — as one would expect from Windows 8 — are combined with activity-specific forecasting that includes health risks, pollen, UV index and other factors with data that updates every 15 minutes.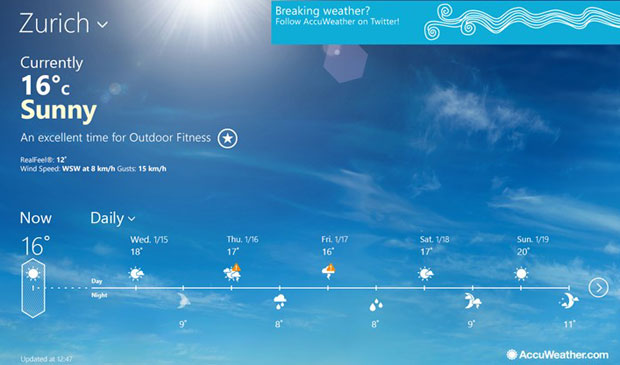 A peculiar, linear time-line-based weather forecast graphic is unique, we think, and worth seeing if you're interested in app UI.
Easy on the eyes, and a hidden menu supplies radar maps and weather news video too.
No. 2: Digital Nightstand

Digital Nightstand is rated 4 stars out of a possible 5 with 289 ratings in the Windows 8 Store.

This is a splendidly 21st-century alarm clock. Settings within this app include those for creating a deep black clock-face background that spills the minimum of sleep-disturbing night-time light.
However, app'ish neat tricks also include a news ticker, Facebook feed, weather updates, an alarm and an interactive to-do list.
All in all, plenty to keep you from sleeping. The forever-updating news ticker alone is a must-have for those who sleep with one eye open.
No. 3: Glam Life

Glam Life is rated 4+ stars out of a possible 5 with nine ratings in the Windows 8 Store.

Just two words describe this app: celebrity culture. If that's what you're into, this is the Windows 8 app for you.
Hundreds of pictures of celebrities adorn this app, and associated textual tags answer some of life's vital questions, like whether the just-disclosed-as-pregnant royal Zara Philips will continue to ride horses while expecting.
Idle gossip? Perhaps. Dig in.
No. 4: Xbox Smart Glass
Xbox Smart Glass is rated 4 stars out of a possible 5 with 11,148 ratings in the Windows 8 Store.

This app ties your Windows 8 PC to your Xbox games console and acts as a second screen for controlling media and games. It's a new, clever way to use an Xbox, and we recommend trying it if you're an Xbox user.
Numerous user-install complaints in the Microsoft Windows 8 Store, though, relegate it to a runner-up position.
No. 5: Daily Workouts
Daily Workouts is rated 4+ stars out of a possible 5 with 357 ratings in the Windows 8 Store.

This app pitches itself as your own personal trainer, which it is if you reckon a stack of fitness videos equates to having a personal trainer. In any case, it is free, and that's more you can say for your own personal trainer.
The videos show you how to do each of the 5- to 10-minute targeted workouts and include arm, cardio, Pilates and more.
A fair selection of classic workouts, but we'd like to see more for free.
Want to Suggest an Apps Collection?
Is there a batch of apps you'd like to suggest for review? Remember, they must all be for the same platform, and they must all be geared toward the same general purpose. Please send the names of five or more apps to me, and I'll consider them for a future All Things Appy column.
Don't forget to use the Talkback feature below to add your comments.