Welcome to All Things Appy. We scour the app stores and bring you thedefinitive top five available free apps in a particular genre for a particular platform.
Here's TechNewsWorld's selection of the best music and video apps for Windows 8.
Notable Music and Video Changes Post Windows 7
One thing worth mentioning is that Windows Media Center is no longer included in baseversions of Windows. Windows Media Center can be used for indexing pictures, videosand music — and, importantly, recording and watching live TV with a TV card.
Windows Media Center is now available in the paid Windows 8 Pro Pack.
For another couple of days, though — through Jan. 31 — Windows 8 Media Center Pack is available for free here.
About the Windows 8 Environment: Apps are downloadable from the Windows Store. From the Store tile on the Start page, browse to the Audio and Video category. Alternatively, search from the Search charm icon.
No. 1: PrimeTube

PrimeTube has 4+ stars out of a possible 5 from 152 ratings in the Windows Store.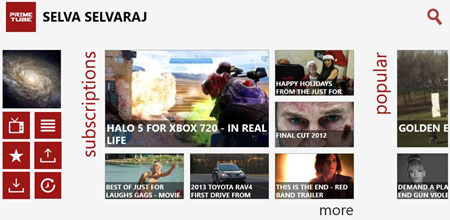 PrimeTube, from APP LYF, is an elegant and refreshing tool for watching YouTubevideo.
The Windows tile-like interface fits well aesthetically within the Windows 8environment.
The app allows for continuous playback of YouTube favorites and playlists; recordingand uploading of video; offline viewing options; browsing and watching at the sametime; and a way to pin channels, videos and playlists as animated tiles to the Windows 8Start menu.
No. 2: Xbox Video

Microsoft's Xbox video app has 3+ stars from 1,809 ratings in the Windows Store.

The Xbox Video app, included in the Windows 8 OS, lets you rent or buy moviesand television shows in HD. Look for the Video tile on the Windows 8 home page tolaunch the app, and agree to the terms and conditions.
The app will also allow you to browse your own video collection. Cross-Microsoftcompatibility means you can watch via an Xbox game console too.
No. 3: Slacker Radio
Slacker Radio has 3+ stars out of a possible 5 from 365 ratings in the Windows Store.

The lack of a Windows 8 Pandora radio app prompts TechNewsWorld to include the nextbest thing in our Top 5 apps, and that's Slacker Radio. It's similar to Pandora,providing millions of songs for free streaming.
Both services let you enter a song, artist or album and then the services create a playlistfor you based on the data entered. Slacker does have more songs than Pandora, and has abunch of preset stations too — plus it has the Windows 8 app, whereas Pandora requires the useof a browser.
No. 4: TuneIn Radio
The TuneIn app is rated 3+ stars out of a possible 5 with 1,221 ratings in the Windows Store.

We've already included TuneIn radio in our Appy Best of the Windows 8 Entertainmentapps, but we like it so much — and think it's such an important app — that it appears here underthe Music app selection too.
Sixty-thousand radio stations from around the world are indexed, and they covereverything from French station Radio Mozart and its Mozart 24/7 playlist, to ArgentinianRadio Flamenco. Ibiza anyone? You name it, in other words.
No. 5: MusicTube has 3+ stars out of a possible 5 from 119 ratings in the Windows Store.

Ciunkos' free adaptation of YouTube, called "MusicTube," brings you just the music videos.You can search and browse over 1,000 artists. Last.fm provides the artists' images.
TechNewsWorld places this app in the runner-up category not because we don't like it,but because we think it needs to index more artists.