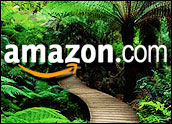 Online super retailer Amazon.com plans to launch an electronic book reader in New York on Monday, according to reports from Cnet. The Kindle, the first hardware device created by the online seller, will include WiFi functionality to allow users to connect directly with Amazon's e-book store, from which they can purchase new books.
The device, which will reportedly sell for US$399, was made possible through a variety of deals, including a reported deal with Sprint for access to its EVDO (Evolution-Data Optimized) high-speed wireless data service. Targeted at the road warrior contingent and business-related travelers, the Kindle will give readers a download of the digital editions of The New York Times and The Wall Street Journal every morning.
Another 50 to 100 newspaper publishers have also signed on to put their electronic editions on the reader as well.
Tech news blog Gizmodo also broke news of the upcoming reader. In addition to reading e-books, users will also be able to use the Kindle to send e-mail. E-book downloads will reportedly last a scant two minutes, and the reader will also support audiobooks and feature a headphone jack. For reading at night, the Kindle has an external arm with a lamp.
Digital Content King
Amazon's new e-book offerings and reader are just the latest move from the retailer into the digital content space. In September 2006, Amazon launched its own video download store, Unbox. Just two months ago, the site — which makes about 60 percent of its revenues from book sales — debuted its own DRM-free music download store.
"It's very consistent. They are becoming the purveyor of digital media overall, not just hard copy versions, not just books, CDs and DVDs, but now all sorts of digital media," Richard Shim, an IDC analyst, told TechNewsWorld.
Better Than a Book?
Electronic books and their companion devices have been on the market since the Internet boom of the late 1990s. However, as with many products to come out of those heady days when venture capital-backed visionaries ran amok, e-books have not exactly taken off.
"About seven to 10 years ago there was a lot of hype around these e-books, and the reality was that the hardware wasn't ready, and there certainly wasn't a service that was ready. So the category got written off as a failure. Now we're at the point — at least from a technology standpoint — where the readers have gotten a lot better," Shim explained.
Screens on the devices are now a lot easier to read, they are a lot smaller and the batteries last much longer. The readers can also store a lot more content, including several books, a couple of magazines and a bunch of newspapers, freeing users from having to lug all that around.
"So from a hardware perspective the industry is there. The question is whether the service that compliments the device is ready. It's kind of like having the iPod without iTunes," he continued.
"It's an interesting idea, and the idea is compelling enough that a lot of people have tried it, but it never really seems to find a fit with consumers," John Barrett, director of research at Parks Associates, told TechNewsWorld.
The problem is that e-books do not make for a better reading experience, Barrett pointed out.
"When you sit down in your chair and you've got your book and a cup of coffee or tea, that's a big part of why people read books — that whole kind of feeling. And I'm not sure it's quite the same when you have a little screen," he explained.