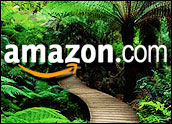 Rumors of a second-generation Kindle from Amazon.com before 2009 have been greatly exaggerated, Amazon said Friday.
Although many fans of the e-book reader have been abuzz this week with rumors that Amazon.com planned to release an updated version of its Kindle, the retail giant will not, in fact, have a new device out before the new year, according to Heather Huntoon, an Amazon.com spokesperson.
"Don't believe everything you read," she told TechNewsWorld. "There's a lot of rumor and speculation out there about Kindle. One thing I can tell you for sure is that there will be no new version of Kindle this year. A new version will come out sometime next year at the earliest," Huntoon said.
Stirring the Pot
The rumors began back in July when tech blog CrunchGear cited an unnamed Amazon source in reporting that the Web retailer would launch two new models during the holiday season, the first of which was set to roll out in October.
Later, a report in the Seattle Post-Intelligencer cited McAdams, Wright and Ragen analyst Tim Bueneman, who noted that Amazon was working on a new version of the device. The company, according to Bueneman, has several new designs of the e-book reader in the pipeline and considers the student market an as-of-yet untapped opportunity. Though that report noted no time frame, it worked to fuel rumors and expectations.
Slow and Steady
Though rumors surrounding the device indicate a certain level of consumer enthusiasm, Amazon is not necessarily shooting itself in the foot by missing what may be a golden opportunity to take advantage of the momentum, according to Gartner Research analyst Micheal McGuire
"I don't think they're punting on an opportunity now. If it's not ready now, it doesn't make sense to rush," he pointed out.
Nor is it an opening that Amazon's competitors in the e-book reader market, such as Sony, will be able to capitalize on.
"Competitors have a lot to overcome if all they have is hardware. Like iTunes for music, Amazon's got the device and service tie-in that's pretty powerful," McGuire explained.
Although Amazon's Huntoon would not provide any further details on what Amazon has in store for the Kindle, cracking into the textbook market would be a significant challenge for the online retailer, according to McGuire.
"The textbook market, on the other hand, is one that's not going to shift to the online model easily. They've got a ton of money tied up in their current distribution models. However, staying ahead of the students and their wants/needs is the trick. Kids are already using [peer-to-peer file-sharing] torrents to redistribute books," he added.