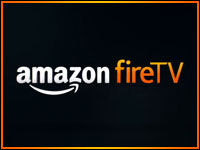 TheAmazon Fire TV, available for US$99 from Amazon, hasn't yet made any jaw-dropping leaps forward, but it is an excellent set-top box that, in some ways, breaks ahead of the Apple TV, Google Chromecast and Roku competition.

There's a lot to explain here.
First, the Amazon Fire TV isn't just another box that lets you streammovies and video to your living room HDTV. It's solid, svelte, sexy,fast, and it competes well with the competition. It boasts 1080p HDdelivered through a Qualcomm Snapdragon 8064 Krait 300 quad-core1.7GHz processor, Adreno 320 graphics, 2 GB of memory, and 8 GB ofstorage. Did I say it was fast? As you navigate and launch content,the Amazon Fire TV interface feels delightfully snappy.
The box does what you expect it to do — like stream Amazon PrimeContent alongside streamed content from other services like Netflix,Hulu Plus, WatchESPN, Showtime Anytime, Vevo, RedBull TV, NBA GameTime or Pandora.
There's more, though. The Amazon Fire TV ships with two key claims tofame: voice search and games.
Voice Search
Amazon claims that its Voice Search just works, and in my firstweekend with the Amazon Fire TV it does — with caveats. To use voicesearch, there's a handy dedicated microphone button at the top of theremote. Simply say a TV show or movie title, or even an actor's name,and voice search will quickly give you a list of interpreted options.In case you mumble or don't get a title quite correct, you can usuallyselect the right option. The whole process is fast and intuitive– so much so that I quickly realized that voice search is far easierand more effective then navigating to my own watchlist.
As for the results, this is where the promise doesn't yet live up tothe reality: Nearly all of the results are focused entirely onAmazon's ecosystem of content. If you want to buy or rent a movie fromAmazon, this is fantastic. If you don't want to buy a movie fromAmazon and you want to stream it from your Netflix account, you won'tsee it in the search results.
As near as I can tell so far, this couldbe updated in the future, and presumably it would require someparticipation from Netflix to enable the Amazon Fire TV to searchacross its database of content. Some early testers, it should benoted, have found search results in Hulu Plus (but I'm not a Hulusubscriber and did not test this).
The bottom line? In my experience, voice search worked great and was apleasure to use — not as pleasurable as it appears to be for GaryBusey — but excellent for access to Amazon content.
That's thekey to remember here: If you're an Amazon Prime Customer and Amazoncontent consumer, the Kindle Fire TV is a fast and easy device. Infact, like Kindle Fire tablets, it comes preconfigured and ready tolaunch with your personal account information (when you buy directlyfrom Amazon.com).
In-Between Games
There is a lot of promise inside the Amazon Fire TV and Kindle Firetablet ecosystem — apps and games. Most importantly, games. Therise of casual gaming on mobile devices has changed the look of theliving room. While console game systems still attract core gamers, newgenerations of kids and adults are spending time with theirsmartphones and tablets instead. Amazon clearly gets this, and evencreated an Amazon Fire Game Controller accessory to let you play moregames with a controller design more suited to serious gaming.
What Amazon delivers is something in between tablet games and consolegames. As more game developers create Android-based games for Amazon'sFire TV — the company is activelysoliciting developers — the game options will increase and becomebetter. For example, the best game so far appears to be Sev Zero, afast-action alien shooter developed by Amazon's own game developmentstudio. Sev Zero lets multiple players defend a tower if the otherplayers connect and play through a Kindle Fire HD tablet. Sort ofcool, no doubt, but more complicated than simply letting four kidsplay a game with the same type of controller on the same HDTV screenlike they can with many Xbox or PlayStation console games.
In addition, many of the Android-based freemium games rely on in-apppurchases. So while you can play a game for free, it's only a matterof time before a child makes in app purchases — or pesters a parentto enter in a PIN to buy something through the game. This isn'texactly Amazon's fault, but the experience won't be as pleasing as anadult might hope.
Fantastic for Amazon Fans
While the Amazon Fire TV is a solid set-top box entry, it won'tdisplace many Apple TV, Roku or Chromecast sticks in the living room.Many of the apps and services are available elsewhere already, andAmazon's take isn't yet appreciably better. If Amazon can extend itsvoice search to cover the Internet and find all sorts of streamablecontent — especially free TV shows — then, wow, that would be anachievement. For instance, if you could use voice search for something likethe TV show NCIS and find the streamable version of the latestepisode direct from CBS, that would be huge.
For Amazon Prime customers, though, Amazon Fire TV lets you find andstream its library of content with speed and ease, whether youstream the Prime shows at will or buy or rent videos.
There are other handy little features, like the ability to use AmazonCloud Drive to upload your personal photos and video and have themready for slide shows or sharing. You can stream music from streamingservices like Pandora, and — coming soon, Amazon says — you'll beable to listen to your Amazon MP3 library.
If you have a Kindle Fire HDX, you can mirror your tablet content onyour HDTV — or "fling" it to your Amazon Fire TV and use your tabletfor other tasks, like email or Web browsing.
Coming next month, Amazon will introduce Amazon FreeTime, whichis a kid-friendly service that lets them safely watch sandboxedcontent with simpler controls, screen limits, and personalizedprofiles. Amazon FreeTime is a forward-thinkingservice, and when you pair it with a $2.99 per month subscription, youcan get unlimited access to content from Nickelodeon, Sesame Street,PBS Kids and more.
Potential, Potential, Potential
All-in-all, it's easy to recommend the Amazon Fire TV to Amazon Primecustomers and Kindle Fire tablet owners. The integration with yourAmazon account is sweet and easy from the moment you unpack andconnect it, and the overall build quality and processor specs — notto mention a decent remote with voice search — make it a pleasure touse.
If Amazon can breach the Internet walls between services and contentproviders through voice search, the Amazon Fire TV will turn into araging fire of awesomeness. Failing that, if you could browse Amazon'swarehouse world of products — like you can on a browser — and buyphysical objects through your Amazon Fire TV and shopping cart, wow,that would be another great leap forward.