Parents looking for a richer experience for their kids when they get together with relatives on a video link may find it in a device Amazon started selling Tuesday.
Called Glow, the appliance combines video calling and interactive activities like gaming, drawing and reading into a single device.
"Anyone who has tried to have a video call with a young child can share many stories of kids not staying in one place and running around the house with a phone in their hand," explained Glow Head of Marketing Behrang Assadi.
"With Glow, kids are engaged and enjoy playing games, reading books, and drawing on a giant 19-inch projected space while seeing their remote family member or friend on an eight-inch screen right in front of them, having fun with the same content on a tablet or mobile phone they already own," he told TechNewsWorld.
"Glow truly provides the next best thing to having fun when you are in-person," he said.
Nothing Like It in Market
Kathy Hirsh-Pasek, a psychology professor at Temple University, who helped design the Glow, explained that the device provides real-time social interaction between caregivers and children that is seamless.
"That's a big deal," she told TechNewsWorld. "You can play games, draw, read a book — a lot of things that you would normally do in your house with a loved one."
"While it doesn't allow for touch, it pretty much allows for everything other than that, which is pretty exciting," she said.
"It's about as close as to real life that you can possibly get digitally," she added.
Glow is an unusual videoconferencing solution, noted Mark N. Vena, president and principal analyst at SmartTechResearch, a technology advisory firm in San Jose, Calif.
"Unlike other video conferencing solutions, its dual-screen capability has a built-in screen for the remote caller's face and another projected onto the table below, which can be used as a touchscreen," he told TechNewsWorld. "Everything a user sees on the tabletop screen is — most of the time — mirrored on the remote caller's iOS or Android tablet."
For example, he continued, when the remote caller turns the page of a book 100 miles away, the other party's page turns as well.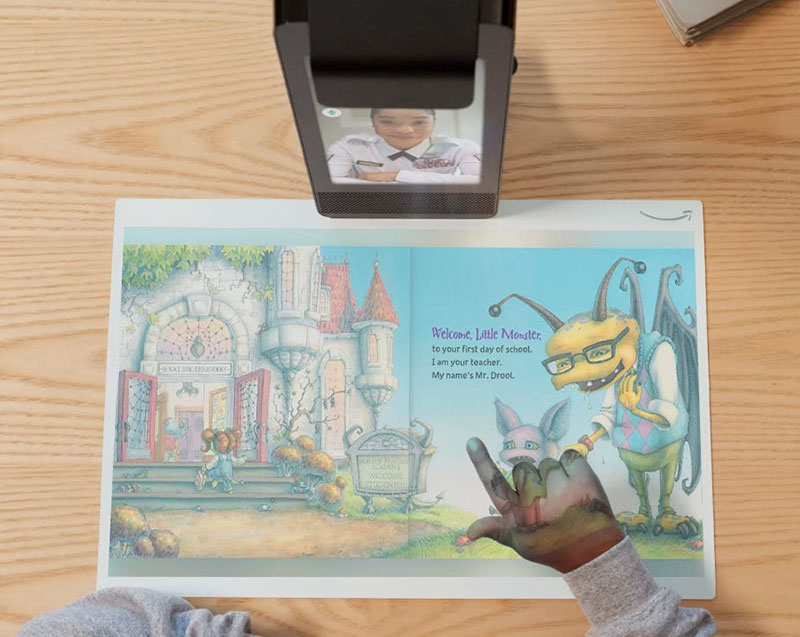 Credit: Amazon
---
"Clearly targeted at children and parents, grandparents and teachers, there's nothing like it on the market," he said.
Guilt-Free Experience
Glow was designed to help kids have more loving adults in their lives, and remove distance barriers to building strong connections, Assadi explained.
"Glow makes it possible for one child to have aunts, uncles, grandparents and family friends all one click away on the Glow device, one click away from hours of fun that kids just can't have on a traditional video call," he said.
"We hear from customers this is a guilt-free experience, knowing their kids are spending quality time with family and friends who could be across town or across the country," he added.
The use case for Glow is geared toward remote families and how to keep them connected, noted Kevin Krewell, a principal analyst in the San Jose, Calif. office of Tirias Research, a high-tech research and advisory firm.
"As working families move for work, they often leave their grandparents behind," he told TechNewsWorld. "This is a device to reconnect grandparents with their young grandchildren."
"The market is likely in the millions of families, but still rather small for Amazon," he said. "It was likely inspired by Amazon's own engineers who have left family behind to work at Amazon and wanted to connect. "
Influential Market
While the market may be small for a device like Glow, its audience punches above its weight.
"Only 30 percent of U.S. households have children at home, but these households pack a punch in terms of opinion power and money spent on electronics and home services," observed Elizabeth Parks, president of Parks Associates, a market research and consulting company specializing in consumer technology products, in Addison, Texas.
She pointed out that households with children own 11 to 13.3 connected devices compared to an average of 7.8 devices for households without children. What's more, 90 percent of households with children have at least one over-the-top (OTT) video service, and 100 percent of households with three children have such a service.
"Households with children are technology thought leaders and market influencers," she told TechNewsWorld. "They provide the viewing and recommending experiences for new products to the more average buyers. Their assessments, of specific brands and product types guide the overall marketplace."
Vena noted that the target market for Glow is parents and grandparents, who want something simple to use and highly visual, and perhaps teachers, who may see remote learning possibilities in the device. "The goal of the product is to conjure up a usage model for video conferencing that current solutions are incapable of performing," he said.
"It's a fairly unique solution," he added, "so it's unlikely to pull demand from other competing video conferencing solutions, but it will take some very good marketing from Amazon to demonstrate the product's value proposition in a clear, understandable manner to mainstream users."
Julie Ask, a vice president and principal analyst at Forrester Research, though, said the demand for the device isn't clear. "This could have been huge for remote learning two years ago," she told TechNewsWorld.
Copycats at the Ready?
If Glow becomes a hit, it could be copied by others. "It would not at all be surprising to see toy and game companies like Mattel or Hasbro release something similar, especially with a content partner such as Disney or Nickelodeon," mused Ross Rubin, the principal analyst at Reticle Research, a consumer technology advisory firm in New York City.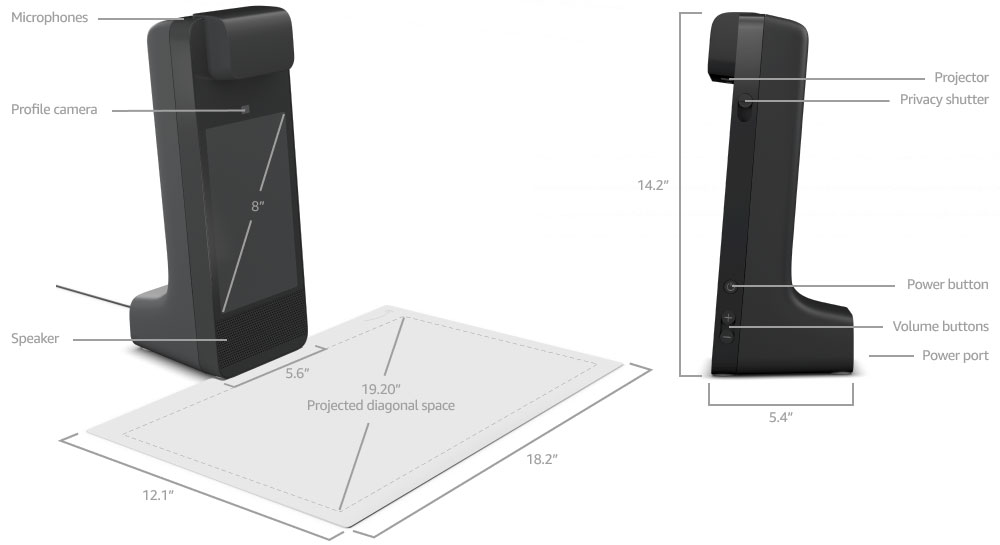 Amazon Glow front and side| Credit: Amazon
---
"We might also see a deconstructed approach, where the shared activity is the focus and the video pieces are handled by a smartphone or tablet to save cost," he told TechNewsWorld.
During its six-month testing and limited distribution phase, Glow sold for $249, but its introductory price has been bumped to $299. "It's a significant jump, but this is an early-adopter product," Rubin said.
"This will initially target more affluent families who have money for experimentation," Ask added.
Glow is now available at Amazon for delivery to the 50 United States.