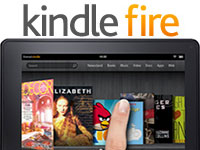 Amazon.com's Kindle Fire tablet will be arriving on consumers' doorsteps a day earlier than planned, the company announced Monday, and reviewers have wasted no time sharing their own early thoughts about the new device.
Originally planned for shipment on Tuesday to those who preordered it, the 7-inch, Android-powered device began shipping on Monday instead.
Amazon's boasted that demand has been high, which it attributed in part to the item's price — it sells for US$199. The lowest-price Apple iPad 2, by comparison, goes for $499.
'You Feel That $200 Price Tag'
So, now that the widely anticipated device is finally in the wild, how does it look? It may not be an iPad killer, but many reviewers seem to suggest that Kindle Fire's low price may effectively create a new niche at the low end of the tablet market.
On the negative side, The New York Times' David Pogue stressed the Kindle Fire's shortcomings when compared with its higher-priced competitors.
"The Fire is not nearly as versatile as a real tablet," wrote Pogue, adding that the device has no camera, microphone, GPS function, Bluetooth, memory-card slot, built-in calendar or note pad.
"Most problematic, though, the Fire does not have anything like the polish or speed of an iPad," Pogue added. "You feel that $200 price tag with every swipe of your finger. Animations are sluggish and jerky — even the page turns that you'd think would be the pride of the Kindle team."
'It's Not That Kind of Tablet'
Similarly, "the Fire isn't a dud, but its real-world performance and utility match neither the benchmarks of public expectation, nor the standards set by the world's best tablets," agreed Wired's Jon Phillips.
"At $200, the Fire crosses an impulse-buy threshold — albeit a steep one — that Apple's $500 entry-level iPad 2 can't even approach," Phillips acknowledged.
But "is it [a] tablet that people will grab again and again for Web browsing, book and magazine reading, casual gaming, and more?" he added. "No. It's not that kind of tablet."
'The Closest Yet to an Apple iPad'
Mashable's Lance Ulanoff was more impressed.
"The $199 Amazon Kindle Fire is a worthy device," wrote Ulanoff. "It's not an iPad slayer, but it could be the first tablet to ably stand atop Mount Tabulous (or at least on a rock ledge just a few dozen feet lower) with Apple's industry-dominating slab computer."
The device "simply works," Ulanoff added. "To fully appreciate the Amazon Kindle Fire, you have to step back and look at all you're getting for $199."
All in all, "it is the closest tablet I've seen yet to an Apple iPad: a consistent, well-thought out marriage of hardware and services that offer an almost frictionless environment for app purchase and content consumption," he concluded. "This is why the iPad has been so successful and why I think the Kindle Fire, despite its imperfections, is a winner, too."
'A Marvelous Device'
Indeed, Andy Ihnatko of the Chicago Sun-Times saw the two competing devices as perfect counterparts, each with its own considerable merits.
"The Fire is a marvelous device," Ihnatko wrote. "Apple and Amazon couldn't have created a more complementary pair of tablets if they'd colluded on it.
"Want a tablet that does everything, and which does books exceptionally well? Buy an iPad," he explained. "Want something more compact, and you're not terribly interested in much more than content consumption? The Fire is aces. I feel as if every potential tablet consumer will recognize themselves in one of those two descriptions."
A Pricing Sweet Spot
It remains to be seen what effect the Kindle Fire will have on the market in the long run, but the most important thing the device has achieved so far is its price, Mike Morgan, senior analyst for mobile devices with ABI Research, told TechNewsWorld.
The $200 to $250 range, in fact, "historically is the necessary price point to achieve mass-scale adoption of a consumer electronic device," Morgan explained.
While no other company to date has been able to duplicate Apple's success in the arena, "one thing that differentiates tablets from computers is that they are more about content consumption than content creation," Morgan noted.
The Content Factor
That, in turn, is where both Apple and Amazon have a considerable strength, he pointed out: "Apple has quite a bit of content, but so does Amazon."
The fact that Amazon's device is tied to a large content ecosystem as well as offering access to Android apps, in other words, could be a significant plus.
Should Apple be worried?
"Yes and no," Morgan concluded. In the short run, the Kindle Fire offers a lower price, but that's unlikely to affect the iPad over time, he predicted.