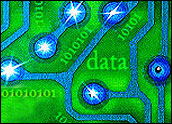 AMD announced Monday it took the No. 1 spot on the VMware VMmark virtualization benchmark for x86 servers with its quad-core Opteron processor running HP ProLiant DL585 G5 servers. The hardware maker's 16-core chips now own the top three rankings for the VMmark benchmark, said AMD.
The DL785, with 8 sockets and a total of 32 cores and 32 total threads running VMware ESX v3.5.0 Update, earned a score of 21.88 @16 tiles.
Virtual Testing
VMware's Rapid Virtualization Indexing (RVI) technology offers near-native performance of virtualized applications and facilitates fast switching between virtual machines, according to AMD.
Released in May 2008, VMware's VMmark 1.1 consolidation benchmark tool goes beyond traditional benchmarks designed to measure performance on a machine running one workload. VMware's benchmark analyzes a system running multiple virtual machines or the server's ability to run multiple workloads simultaneously.
The VMware benchmark is the first suite of tests that gauges the performance of e-mail servers, database servers and Web servers, and compiles performance statistics such as commits per second for database servers and page accesses per second on Web servers. The tests, which measure the scalability of these virtualized workloads, can be used to compare the performance and scalability of different virtualization platforms, AMD said.
Speed Factor
Owning the top three spots in the VMware VMmark benchmarks is a real coup for AMD, Ian Lao, an In-Stat analyst, told TechNewsWorld.
"It's very good for AMD not just in the virtualization market but in the high-end server space, where the virtualized model is the preferred mode. What's really neat about this is that in the server space, where virtualized machines have their strongest play traditionally, it's tough to partition resources well. Once you partition, you start taking hits on performance. The more performance you have, the more you overcome the hits that you take when you virtualize," he said.
Enterprises in the process of deciding which servers and processors to purchase for their virtualized data centers can use the test as an extra piece of data in their consideration packet, Lao explained.
"Benchmarks are good as a unit of measurement, but you have to understand what test was run, what it was measuring and the environment and condition in which it was measuring," he pointed out.
Although AMD clearly feels that it can brag a bit about its processing achievements, companies considering purchasing servers should look at benchmark testing carefully, Gary Chen, a Yankee Group analyst said.
"It's nice to score high on a benchmark, but benchmarks aren't the end-all be-all when it comes to purchasing decisions. First, no benchmark can give a complete view of performance; there are just too many aspects and variables," he told TechNewsWorld.
Benchmarks are good only as a general guide, Chen continued. So many other factors come into play, such as cost and manageability.
"For example, if a system was only 10 percent faster, but the price was [double], that wouldn't be such a hot deal. So, yes benchmarks are a good tool and they should be factored into a decision, but as one factor out of many," he explained.