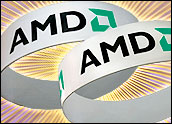 AMD released two different kinds of desktop processors Tuesday, giving one product line a speed boost while dropping the wattage requirements for the other, more energy-efficient line.
On the high end, the company introduced the AMD Athlon 64 X2 dual-core processor 6000+, which should be available immediately from PC makers like Alienware, Fujitsu Siemens Computers, Systemax and Voodoo.
The dual-core 6000+ now clocks at 3 GHz with 1 MB of L2 cache for each core, and will likely sell for US$464 in units of 1,000 or more.
Energy Efficiency
Whereas the 6000+ is based on AMD's 90nm technology, AMD moved its new 45-watt AMD Athlon 64 single-core processors — the 3500+ and 3800+ — to 65nm technology, which paves the way for a more energy-efficient design.
The 3500+ and 3800+ processors will let manufacturers produce sleeker and quieter machines and should sell for $88 and $93, respectively.
Performance Disadvantage?
The inevitable question now is, how do these new processors stack up against Intel?
"Right now, AMD is at a performance disadvantage against Intel and, while this closes the gap a little, Intel remains the performance champ on most benchmarks I've seen," Rob Enderle, president and principal analyst at the Enderle Group, told TechNewsWorld.
However, does the performance gap really matter? It's hard to say. For serious gamers and for graphics-intensive applications, performance is always critical. For most business and consumer uses, though, price and energy efficiency may hold more sway.
"Right now we are having trouble using the performance we have, and people are getting increasingly concerned about global warming and saving power," Enderle added. "If they [businesses and consumers] conclude that AMD is more 'green' in this regard, AMD — and it is interesting that this is the new battlefield between AMD and Intel — could capture some additional mindshare."
Better With Vista?
Microsoft's new power-hungry Vista operating system is a wild card factor for AMD and Intel. Intel might show faster processor speed benchmarks, but actual performance with Vista may be harder to quantify.
"Microsoft was closer to AMD during the development of Vista, and right now the best Vista experience is probably with AMD, NVIDIA chipsets, and ATI graphics cards," Enderle explained. "The worst is, coincidently, AMD, ATI chipsets and NVIDIA graphics cards."
Final NVIDIA drivers have not yet been released, Enderle added, noting that Intel is in the middle of the pack in terms of Vista performance, and "they have had problems with some common motherboard components like SATA and sound drivers."
The Business IT Factor
Corporate PC buyers, on the other hand, may look more to stability within the supply chain than new processor technologies.
"Businesses are really trying to standardize their desktop and laptop configurations, and IT professionals take comfort knowing that the processors they standardize on next will be available to them for some time," Benjamin Gray, an analyst for Forrester Research, told TechNewsWorld. "But if you combine today's chip announcement with last week's announcement that AMD has lowered some prices … AMD looks to continue their market share gains against Intel — even at the cost of their own bottom line."
Gray also expects the energy-efficient 3500+ and 3800+ to fare best on standard and ultralight laptops, in which battery life is most important, and "where usage over the next two years will increase in 62 percent of North American enterprises and 30 percent of European enterprises, and in 57 percent and 17 percent of North American and European SMBs, respectively," he noted.