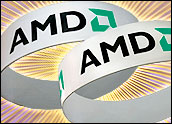 Advanced Micro Devices has launched its long-awaited quad-core addition to its groundbreaking Opteron x86 processor lineup — the Quad-Core AMD Opteron processor, a.k.a. "Barcelona," which AMD is billing as the world's first native x86 processor to go quad-core.
There are several iterations of Barcelona: the Quad-Core AMD Opteron 2300 Series, the 2300 HE Series, the 8300 Series and the 8300 HE Series, all of which are available now.
Intel, in a possible preemptive strike aimed to beat AMD's Monday announcement, last week released its own new lineup, its Quad-Core Xeon 7300 series processors. While bearing the "quad-core" name, Intel's solution bundles two dual-core chips, while AMD's solution bundles four processors on a single die of silicon, all at the 65 nanometer size.
When AMD first launched its Opteron series years ago, it made big gains against competitor Intel in PC server shipments bearing the company's fast and efficient processors. Recent quarters, however, have favored Intel. AMD hopes its new processors will fit the market's evolving needs and resonate with customers.
Performance vs. Energy Efficiency
AMD has made much of its reputation on delivering performance with low power consumption — a customer demand that is louder than ever. Enterprises are routinely finding themselves stuck in data centers that won't physically allow them to draw more electricity in. Adding another server, or even an upgraded server that draws more power, isn't even possible.
"Performance isn't looked at simply as performance any more," Bruce Shaw, AMD's director of marketing for the company's server and workstation division, told TechNewsWorld. "Now energy efficiency is looked at as well."
An apt metaphor may lie in the instance of high gasoline prices and consumption. Climbing prices are leading the automotive industry to create more fuel-efficient and hybrid vehicles that consume less fuel and lessen adverse impacts on the environment.
"The computer industry is going to go through a similar evolution as folks look at how to get the most computational capacity while consuming the least amount of 'fuel,'" Shaw noted.
Tiny Little Gates
In the new line of Opteron processors, AMD has made a range of improvements at the silicon level, changing how efficiently it uses energy and how much gets wasted.
"One of the big problems you see with processors is not how much power they use to actually do work, it's how much power they use not doing anything. When they are sitting at idle, electricity gets bled off," Shaw explained.
"A lot of the architecture you see here in all the models we've introduced gets into the fact that we're able to independently throttle each of the four cores, which is unique to this new design. All of the cores don't have to be running at full speed at the same time," he said.
AMD's Quad-Core Opteron lineup also lets the processor essentially turn off areas that aren't needed to do processing work by gating off those idle sectors.
"The benefit of having gates in between those areas, which didn't really exist in the same way before, is to let those areas not only idle down but also not have bleed over into them. Electricity is like water. It wants to move around, and being able to channel it off from where it's not needed at a particular time, you reduce leakage," Shaw noted. "We've tremendously reduced the leakage of energy."
Average CPU Power
AMD also on Monday introduced the Average CPU Power (ACP) metric, which the company said represents processor power usage (including cores, integrated memory controller and HyperTransport technology links) that is measured when the processors run a suite of typical commercial high-utilization workloads. The ACP metric, then, will help data center operators estimate power budgets to more accurately size their data centers.
While the company faces off against its much larger rival, Intel, AMD's business partners are happy to have another option available for their own customers. When HP, Sun, IBM or Dell, for instance, have to rely on a single processor manufacturer, they are at the mercy of that company's prices or technological limitations.
"Sun is thrilled about the introduction of Quad-Core AMD Opteron processors. Incorporating Sun's innovative design principles that enable stunning scalability and industry-leading performance-per-watt, our upcoming Quad-Core AMD Opteron processor-based servers and workstations will only accelerate the momentum Sun is experiencing in its x64 business," said John Fowler, executive vice president of Sun Microsystems' Systems Group.
"With so much pent-up demand for the scalability of native quad-core processing, Sun believes there will be rapid, widespread adoption of Quad-Core AMD Opteron processor-based systems," he added. "We applaud AMD for yet another technological breakthrough, and are excited to continue to grow our alliance."