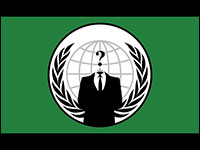 Despite cries from the Left, the Guantanamo Bay detention camp is still up and running. The same, however, can't be said for Guantanamo's WiFi.
The United States military turned off wireless Internet service at the Guantanamo Bay Naval Base amid threats from the hacker collective Anonymous. Officials have also nixed access to social networks such as Facebook and Twitter, a spokesperson for the Guantanamo Bay prison said.
Anonymous reportedly threatened to disrupt activities at the base, although no disruptions have been reported thus far.
More than 100 of the 166 detainees at the controversial base have engaged in a hunger strike to protest their indefinite confinement and poor conditions.
[Source: The Associated Press]
Apple's Tim Cook Fields Questions Over Taxes
Apple chief Tim Cook and a pair of company executives fielded questions Tuesday at a Senate subcommittee hearing probing Apple's tax practices, including its use of offshore subsidiaries to avoid tens of billions in U.S. taxes.
Cook defended Apple's maneuvers, saying that the company pays "every single dollar" it owes. But that didn't allay senators' skepticism, particularly about Apple's operations in Ireland. Phillip Bullock, the head of the company's tax operations, confirmed that "Apple Operations International" hadn't paid a dime of U.S. corporate taxes in five years. However, Apple Sales International and Apple Operations Europe have paid the full Irish earned income tax rate.
Apple Inc., he added, has paid its share of U.S. taxes.
The scrutiny has raised questions about Ireland's tax laws and shed light on a loophole in the Irish tax code. Apple channels the majority of its foreign sales through a trio of companies that are incorporated in Ireland but are resident in no jurisdiction. The companies were registered in Ireland in 1980, and reregistered as "unlimited companies" in 2006, which, under Ireland's quirky tax code, means they do not have to public annual accounts. Thus, the companies can legally operate in Ireland but not have "tax resident" status there.
[Source: The Washington Post]
More File-Sharing Blocks for UK
British Internet service providers have begun cutting off access to the sites Movie2K and Download4All, each of which were named in a court order won by the Motion Picture Association.
The UK has been aggressive in trying to weed out copyright-flaunting websites. A year ago it ordered ISPs to block access to The Pirate Bay, the king of all pirate-sharing sites, and later expanded the list of off-limits sites.
Activists have already set up a clone of Movie2K to try to skirt the block.
There are concerns that lawmakers' ability to block file-sharing sites sets a dangerous precedent for restricting Internet freedom.
[Source: BBC]
Japanese Messaging App Bows to China's Censors
In a nod to Chinese government censorship, the developer of the Japanese app Line has written code to restrict the use of certain phrases on its dedicated Chinese service, Lianwo.
The code has not been activated yet, but it could signal pending censorship.
It wouldn't be the first messaging app in China to censor: WeChat, a Chinese mobile messaging app, is also censoring what it called "sensitive" topics.
The potential censorship was discovered by a netizen who noticed a line of code within the app that detected selected phrases. Per the code, using prohibited phrases would prompt a somewhat creepy automatic message in Chinese: "Your message contains sensitive words, please adjust and send again."
There are reportedly about 150 touchy words, which include references to Tiananmen Square; corruption-linked former prime minister Wen Jiabao; and crime within the Communist Party.
[Source: The Next Web]