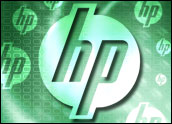 The line separating the mobile and desktop computing worlds has become increasingly blurred in recent months, and HP on Monday unveiled a brand-new all-in-one PC that continues that trend.
Announced during its HP World Tour event in Beijing, the HP Slate 21 tablet is powered not by Windows but by Google's Android. It's also designed for use on the desktop, with a kickstand in back to prop it up.
The HP Slate 21 is due to begin shipping in September; pricing will be US$399. HP did not respond to our request for further details.
'A Great Laptop Replacement'
Equipped with a Nvidia Tegra 4 mobile processor, the Slate 21 features a full 21.5-inch HD touchscreen that supports intelligent 10-point touch functionality. The device's "memory hinge," meanwhile, allows users to adjust the viewing angle by hand between 15 and 70 degrees.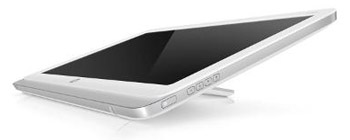 Android 4.2.2 is the operating system for the device, which also includes 8GB of memory, an SD card slot, three USB 2.0 ports, built-in dual speakers, a webcam and wireless printing capabilities. KingSoft office software comes bundled with the device.
The Slate 21 is aimed primarily at home users interested in entertainment and content sharing, HP said. As many as five user profiles can be maintained on the device, enabling each to keep their apps and files separate.
"As tablets are becoming more powerful and useful, it becomes natural to attach keyboards to supplement the touch screen," Roger Entner, principal analyst at Recon Analytics, told TechNewsWorld. "Once you do that, the tablet become a great laptop replacement for playing casual games or word processing."
The most likely users of the Slate 21 are consumers and "light-computing professionals who value high mobility," Entner added.
'They Hate Waiting'
Indeed, young consumers are more likely to take to a device like this because they are "more accustomed to using their mobile devices as their primary computing platform," Jim McGregor, principal analyst at Tirias Research, told TechNewsWorld.
"My sons would probably love it because I started them out on Google Apps rather than Microsoft Office, and they would rather use a mobile device because they hate waiting for a PC to boot," he explained.
It's about time someone came out with a device like this, McGregor added.
'Expect to See More'
"You have to remember that computing is changing drastically," he said. "When you think about computing devices these days, the best are really our smartphones and tablets."
This move, then, essentially "extends the same experience no matter what the architecture, to desktop or clamshell PC or TV or whatever."
Users will still be "stuck with apps that were really designed for mobile," McGregor pointed out.
Still, the use of a Tegra 4 is compelling, "not to mention integrated Nvidia graphics," he said.
In short, "this is the rich experience consumers really want," McGregor concluded. "I would expect to see more of this."