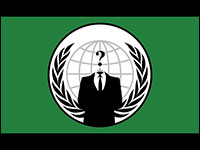 The hacker group Anonymous posted a YouTube video vowing that Friday, Oct. 5, will be "the biggest thing we have ever done."
The video does not get into specifics, but The Local, an English-language outlet in Sweden, reported that the threat comes amid several DDoS attacks against various Swedish agencies, including the National Board of Health and Welfare, which went down Tuesday, and the Swedish Riksbank, which was down on Wednesday. Multiple Swedish university websites were hacked on Wednesday, as well.
Sweden has been embroiled in an Internet drama of late: A Swedish-born Pirate Bay cofounder was arrested; Swedish Web host PRQ, which serves WikiLeaks and other controversial sites, was raided; The Pirate Bay temporarily went offline. The Anonymous YouTube video specifically mentions the PRQ raid as the impetus for Friday's supposed attacks.
While the extent of Friday's attacks is not yet clear, The Wall Street Journal has confirmed that the nation heightened cyber security after several government sites went offline in the early afternoon.
FBI Busts Illegal High-Tech Shipments to Russia
The FBI has busted up a "Russian military procurement network" that illegally shipped US$50 million worth of high-tech equipment from the U.S. to Russia.
According ZDNet, the ring included analogue-to-digital converters, microcontrollers, microprocessors and memory chips. The tools apparently could have been used in detonation triggers as well as missile guidance and surveillance systems.
This FBI press release says that 11 people were charged, with eight arrested and three at-large.
According to the release, the operation involved a Texas company called Arc and a Moscow-based firm called Apex. The main middle man is believed to be Alexander Fishenko, a native of Kazakhstan who became a U.S. citizen in 2003. Fishenko was the CEO of Arc as well as an executive for Apex.
The FBI's investigation also unearthed Russian military documents that identify Apex as a certified provider of military equipment and electronics.
EU Tests Cyber Defense by Attacking Itself
The European Union is launching a controlled cyberattack against businesses, governments and Internet service providers as a way to improve cooperation and identify security soft spots.
According to the BBC, 1,200 separate incidents are being simulated as part of the distributed denial of service attacks, or DDoS, which is the preferred means of attack for hacker groups like Anonymous.
A similar EU exercise was carried out in 2010, but that test, unlike this one, did not include EU banks.
Samsung's Huge Quarter Could Precede Quiet One
South Korea-based Samsung reported a record $7.3 billion profit last quarter, about twice its 2011 total.
According to Reuters, however, the company's string of four-straight record quarters figures to end in December as slowing sales from Galaxy smartphones and reduced chip orders from Apple trickle into the balance sheets.
Even this quarter's record-breaking performance comes with caveats. Samsung may have spent as much as $2.7 billion on marketing and Galaxy promotion last quarter. The company is also still on the hook for more than $1 billion as a result of its U.S. legal defeat to Apple, barring a successful appeal.
Still, it was a good quarter. Samsung reportedly shipped more than 58 million smartphones, including 20 million of its new Galaxy S III. Samsung can also look forward to rewards from its Note II tablet, whose post-launch sales are expected to be three times higher than its predecessor. If true, that would mean 10 million sales by the end of 2012.