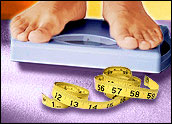 The Food and Drug Administration is looking into reports that orlistat, a drug used to control obesity, might have played a role in 32 cases of liver injury that occurred between 1998 and 2008. The FDA is also investigating an undisclosed number of other cases of liver damage that might be related to the drug.
Orlistat works by inhibiting the absorption of up to 25 percent of fat calories consumed.
It is available by prescription as "Xenical" and over the counter as "Alli."
There is "no obvious biological mechanism to suggest liver damage can occur," said British drug firm GlaxoSmithKline, which markets both Xenical and Alli, earlier this week.
Swiss firm Roche manufactures Xenical.
'Not a New Problem'
Possible side effects that are more common and generally acknowledged include gastrointestinal disruption — such as loose, oily stools and diarrhea.
However, reports of possible liver damage go back to at least 2006, when the American Journal of Medicine warned of a possible case.
"Our position is unchanged," said Peter Lurie, deputy director of the health research group at the nonprofit watchdog group Public Citizen.
"We were opposed to the drug's approval in the first place, in large part because the drug had not conferred a significant health benefit. There were questions regarding its effectiveness in controlling mortality and morbidity due to obesity," Lurie told TechNewsWorld.
"This is not a new problem," added Sidney Wolfe, M.D., also with Public Citizen.
"The FDA is belatedly getting concerned about it, but it should have been before," Wolfe told TechNewsWorld.
Public Citizen has long had concerns about orlistat's side effects.
"We had questions regarding a possible association with colon cancer, and we had questions about whether there was a problem with people not getting fat-soluble vitamins," said Wolfe. "We also mentioned possible liver damage and referred to the AJM article."
Beneficial for Liver?
So far, the FDA is advising the public that those taking orlistat who have not experienced side effects can continue to take it according to directions. However, users should consult with their healthcare provider if they have symptoms of liver injury including weakness, fatigue, jaundice (yellowing of the skin or the whites of eyes), or discolored urine.
About a third of those taking orlistat showed a 5 percent or greater decrease in weight, while about a sixth lost 10 percent or more of their body mass, according to studies submitted by GlaxoSmithKline.
Some researchers have argued that since decreasing obesity can improve liver health, it is possible that orlistat could be beneficial in curbing liver damage caused by complications related to obesity.
Obesity is widely believed to be approaching epidemic levels in the United States, making drugs like orlistat quite popular.
GlaxoSmithKline posted US$123 million in 2008 sales for Alli, which contains about half the orlistat as prescription-based Xenical.
Roche reported 2008 revenue of $472 million for Xenical.