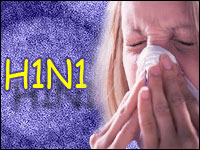 The Centers for Disease Control and Prevention has determined who will get the vaccine for the H1N1 flu virus — aka "swine flu" — in the event of a shortage, but the priority groups don't line up well with the groups most likely to die from the disease.
The reasons reflect a complex calculus of ethics that might be changing.
The H1N1 vaccine priority groups, in order, are pregnant women; people who live with or care for children younger than six months of age; healthcare and emergency medical services personnel with direct patient contact; children 6 months through 4 years of age; and children 5 through 18 years of age who have chronic medical conditions.
High-Mortality Groups Aren't Prioritized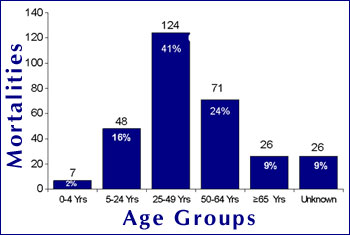 H1N1 Deaths by Age Group, US
However, those who are most likely to die if they contract the disease are people between the ages of 25 and 49, a group that accounts for 41 percent of deaths from H1N1 so far. This age group comprises about 37 percent of the U.S. population.
Another 25 percent of known deaths from H1N1 occurred among people between the ages of 50 and 64, a group that represents about 15 percent of the U.S. population.
Two percent of H1N1 deaths occurred among children under 4 years of age, and 6 percent of H1N1 deaths so far have occurred among pregnant women. Children aged 0-4 account for about 7 percent of the U.S. population, while pregnant women make up just 1 percent.
Guard the Front Lines
Few disagree that people who work in healthcare and emergency services need to be given priority.
"The feeling has always been that you have to protect those people, or otherwise they might decide not to risk themselves for the greater good," commented Alan Wertheimer, a senior research scholar in the clinical section of the Department of Bioethics.
"If you have a plane full of sick people, you have to save the pilot first, or nobody is going to make it," he told TechNewsWorld.
Aside from the need to protect healthcare workers, though, there is little agreement as to where the vaccine should go first.
"I don't think we've reached any kind of consensus," said Douglas Opel, M.D., MPH, acting assistant professor at the University of Washington School of Medicine.
There was a shortage of seasonal flu vaccine in 2007 due to a factory closure, and "even though we had a huge shortage, it was remarkable that the American people didn't have much of a problem [with the priority groups established at the time]," Opel told TechNewsWorld.
"But that was a mild flu season, and the perception was that the shot didn't cover some of the strains most common at the time," he continued. "Would everyone be OK with the same decisions in a case where the flu was stronger and the vaccine perceived to be more effective? I'm not so sure they would."
New Ways to Think About Scarce Cures
The H1N1 mismatch might prompt new ways of thinking about how to prioritize scarce life-saving treatments of any sort.
"Decisions like this used to be made mostly on utilitarian grounds: the greatest good for the greatest number," said Opel.
"Recently, some people have started to also argue that one should take into account remaining years of life left, and the quality of that life," he said.
Those in at least one priority group — pregnant women — have not always been advised to get flu vaccines.
"My sense is that they looked at the epidemiology," remarked Opel. "It appears that pregnant women are at a higher risk of H1N1, and they spend time around babies too young to get the vaccination, so they gave priority to vaccinating pregnant women."
Lots of Cases, Many Mild
The ethical issues underlying distribution of H1N1 vaccine might not cause any public clashes in the near future, since authorities expect to have enough to go around. Of the many cases contracted so far, the majority have not been life-threatening or even serious.
"I have a friend who runs a summer camp, and she told me she had 40 kids sick with H1N1, but all of them were fairly mild cases," said Wertheimer.
Under these circumstances, any second-guessing among citizens over who should receive priority for vaccination will probably be limited.