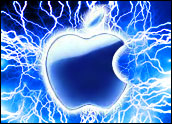 Apple CEO Tim Cook apologized Monday to Chinese customers over the company's warranty policy, adding that he would improve customer service in China, which is now Apple's second-biggest market.
The apology may be linked to a mid-March television special — it aired on state-run CCTV March 15, which is known in China as "Consumer Rights Day" — that claimed Apple's Chinese customers were treated worse than their Western counterparts.
In particular, the program criticized Apple's post-sale customer service in China, pointing out that when Chinese customers have iPhones fixed, the phones are returned with the original back cover — not so in other countries, where Apple replaces everything.
While the CCTV special was the object of some ridicule, it was just one part of a broader Apple-bashing onslaught. China Daily, for instance, a state-run newspaper, ran a series of articles and editorials slamming Apple. One headline reads "Defeat Apple's Incomparable Arrogance."
Chinese media have also broadcast images of Chinese journalists being spurned from Apple's offices in China — apparently further testament to the second-rate treatment the Chinese receive from Apple.
Apple does not address these reports directly in Monday's statement, but it does concede that a "lack of communication" has resulted in a poor perception of Apple. The communication problem, according to the apology, has also has led some to believe that Apple doesn't care about customers.
Because the line between the Chinese media and the Chinese government is fuzzy, it may be that the media blitz against Apple is a way for Beijing to flex its muscle. Apple's home turf, the U.S., has indeed been critical of China, so why not return the favor?
After all, the U.S. government last year pounded away on Chinese telecommunications companies Huawei and ZTE, and in March — the week of the TV special lambasting Apple — the Obama administration publicly pressured China on cybersecurity concerns.
[Source: The New York Times]
eBay Leads Investment in Indian E-Commerce Site
India-based e-commerce site SnapDeal has reportedly completed a US$50 million investment round, with eBay leading the way.
While it has yet to be confirmed, the $50 million total gels with past hauls. SnapDeal had a $40 million investment round in 2011, and a $12 million round not long after its launch.
Other SnapDeal investors include an as-yet-unnamed Japanese financial institution, as well as previous SnapDeal investors such as Bessemer Venture Partner and Nexus Ventures.
India's e-commerce market was worth a reported $14 billion in 2012.
eBay is also becoming more involved with the Chinese e-commerce market.
[Sources: NextBigWhat.com, Tech In Asia]
Windows Phone Sees Daylight Abroad
Windows Phone outsold the iPhone is seven markets in the fourth quarter of 2012, including India, which has the third-largest smartphone market in the world, IDC reported. Windows Phone also topped iPhone in Argentina, Poland, Russia, South Africa, Ukraine and a cluster of countries that IDC collectively calls "the rest of central and eastern Europe."
Meanwhile, Windows Phone handsets also outdueled BlackBerry in 26 countries.
Windows Phone will be the fastest-growing platform between now and 2016, IDC hypothesized. It won't meet projections for the iPhone or Android, but it is expected to comfortably assume the world's No. 3 spot.
[Sources: Microsoft; ZDNet, The New York Times]