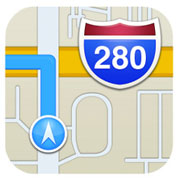 Apple's new map system on iOS 6, which replaced Google Maps, has drawn plenty of criticism from pundits.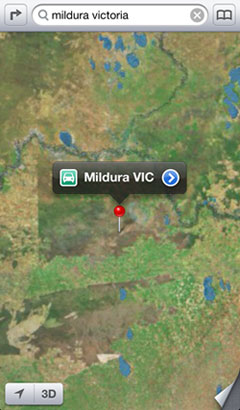 Mildura is actually about 43 miles from where it appears on Apple Maps.
Now, it's the subject of a warning by Australian police. are warning drivers to be wary of Apple's new maps system, which shows their fair town as being in the middle of Murray Sunset National Park.
According to Forbes, officers in Mildura are warning drivers to be wary of Apple's new maps system, which shows their fair town as being in the middle of Murray Sunset National Park. Mildura, it turns out, is not in the middle of Murray Sunset National Park, and because the National Park features more than 3,000 square miles of Australian bush — replete with poisonous snakes, little water, 100-plus-degree heat and bad mobile reception — it's not someplace you want to be lost.
On top of all that, it's not all that close to Mildura, which is 43 miles away.
Forbes reports that police officers have found motorists stranded for up to 24 hours with no food or water, forced to hoof it to find help. All told, police say six vehicles have contacted them for help because Apple's navigation system threw them off-course.
Apple CEO Tim Cook has apologized for the software, while Richard Williamson, who was in charge of Apple's iOS mapping software, reportedly lost his job over it.
McAfee Wants Back in the US
Speaking from an immigration deportation center in Guatemala, John McAfee, the 67-year-old American tech heavyweight made famous by his antivirus software, told reporters via video stream that he wants to return to the United States. He faces deportation to Belize, where he is wanted for questioning in connecting with the killing of a neighbor.
According to CNN, McAfee's pleas to return to the States were rejected by Guatemalan authorities. However, a judge there granted him a stay of deportation.
Authorities in Belize want to question McAfee about the killing of Gregory Faull, an American businessman and former neighbor of McAfee's who was killed on November 11.
McAfee, who moved to Belize in 2008, says he fled Belize for Guatemala to avoid persecution. He was detained for entering the country illegally.
Iran Launches Cleansed Video-Sharing Platform
In its ongoing attempt to purge its Internet of Western smut, Iran has launched a new censored, government-approved video platform called "Mehr."
According to AFP, the site is designed to give Iranians a way to share videos without loosening its ban of YouTube.
Iran is reportedly trying to build its own Internet that contains nothing anti-Islamic.
"Pakistan Cyber Army" Launches on China
More than 400 Chinese government sub-domains were defaced by a hacker from the Pakistan Cyber Army, according to HackRead .
HackRead says that a main target was the website of Xuchang City People's Procuratorate, which was also defaced in 2010 by an Indonesian hacker. According to The Register, Xuchang City was home to Black Hawk Safety Net, a notorious hacker group that was busted by police in 2010.
The Register also reports that at least 20 Bangladeshi government sites were also hit by the PCA.
Respect Our Authority!
Authoritarian regimes want … well, more authority.
According to Ars Technica, some of the world's most authoritarian regimes are using the World Conference on International Telecommunications to expand the jurisdiction of the International Telecommunication Union. Citing an email from a member of the American delegation at the conference, Ars Technica reports that the proposal comes from Russia, the United Arab Emirites, China, Saudi Arabia, Sudan, Algeria and Egypt, and would bring various Web-related entities into the purvey of the ITU, including website operators like Facebook and Google.
The U.S., meanwhile, has been pushing to limit the ITU's authority over the Internet.
The BBC also reported on the "rival visions over governance" that are crystallizing at the conference.