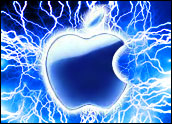 Apple's Asian component suppliers have begun mass-producing parts for a new tablet, according to The Wall Street Journal.
Apple reps didn't immediately respond to questions about the tablet, which is believed to be smaller, and with a lower resolution, than the latest iPad that went on sale last March.
Last month, South Korean LG Display and Taiwanese AU Optronics began mass-producing LCD screens to be used on the new devices, according to sources cited by The Journal.
If true, Apple's new tablet would figure to compete with Amazon's Kindle Fire and Google's Nexus 7, which are smaller and cheaper than the iPad.
Philippines Enacts Controversial Law
The Philippines has begun enforcing a law designed to thwart cybercrime, but critics are decrying the legislation as a way to muzzle free speech.
According to the BBC, officials say the law is targeted at child pornography, identity theft and spam. But the law, dubbed the Cybercrime Prevention Act of 2012, also includes a provision that makes libel — including comments made on blogs and social media sites — a cybercrime punishable by up to 12 years in jail.
Passed on Sept. 12, the law took effect amid objections from citizens and journalists who are reportedly concerned that authorities will take liberties with the definition of "libel," which could allow the censorship of government critics.
Hackers have toyed with government websites to protest the law, which, according to the BBC, also gives officials powers to search and seize people's online accounts.
US-based Human Rights Watched has joined in slamming the law.
Pirate Bay Down, Now Up
After two days offline, file-sharing site The Pirate Bay is back online and ready to serve your piracy needs — er, legitimate peer-to-peer collaboration needs.
According to Torrent Freak, the site went offline Monday, and while The Pirate Bay is constantly battling power outages, DDoS attacks and maintenance tune-ups, the duration of the blackout was noteworthy. This time the problem was apparently a broken power distribution unit.
As a testament to site's popularity, The Pirate Bay became of one the top searches on Google after disappearing. Other file-sharing sites also experienced an uptick in traffic.
The downtime happened just as PRQ, The Pirate Bay's former hosting company, was raided.
Nokia Could Flip Headquarters
Nokia is trying to sell its Espoo, Finland, headquarters as part of the company's quest to shed non-essential assets.
According to Reuters, the building is believed to be worth Euros 200 to 300 million, or about $260 million to $390 million.
Nokia could use the dough, as it is mired in a years-long struggle to remain competitive in the mobile phone market. The entrenchment of Apple and Samsung, coupled with the surge of cheap mobile alternatives from Asia, has left Nokia looking for its niche in the market.
Police Asked to Relax on Tweeting
A senior police officer in the U.K. has warned police about social media usage.
According to The Guardian, the warning came after two officers got in hot water for their "misuse" of Twitter. One officer shot off a series of tweets about policing students during the booze-filled first week of university classes, while another was using Twitter to rouse support for Manchester police to attend funerals.