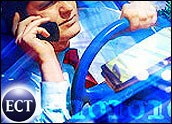 Two legal groups have filed a lawsuit to get more information on whether the U.S. government may be using Americans' cell phones to pinpoint their locations — sometimes without any warrant or court oversight.
The American Civil Liberties Union and the Electronic Frontier Foundation filed their suit on Tuesday urging a federal court to order the Department of Justice to turn over records related to the government's use of people's cell phones as tracking devices.
"This is a critical opportunity to shed much-needed light on possibly unconstitutional government surveillance techniques," said Catherine Crump, staff attorney with the ACLU and lead attorney on the case. "Signing up for cell phone services should not be synonymous with signing up to be spied on and tracked by the government."
FOIA Request
Last November the ACLU filed a Freedom of Information Act (FOIA) request for the records after media reports revealed that some government officials claimed not to need probable cause to obtain real-time tracking information from people's cell phones, the ACLU said.
Reports also suggested that some federal law enforcement agents had obtained tracking data directly from mobile phone service providers without any court oversight.
Since that FOIA request was made, however, the DOJ has failed to release the documents or provide an adequate response, the group added, leading to Tuesday's action.
Policies and Procedures
The information requested includes documents, memos and guides regarding the policies and procedures for tracking individuals through the use of their cell phones. It also includes information about the number of times the government has applied for cell phone location information without establishing probable cause, and how many times it has been granted.
"The public has an overwhelming interest in the requested information, which concerns our most personal communications," said David L. Sobel, EFF senior counsel and co-counsel on the case. "But remarkably, the Justice Department refused to respond quickly to the request, as the law requires when 'urgent' information is at issue. Further delay will allow important privacy policies to be developed behind closed doors."
Before the incorporation of global positioning system (GPS) technology in cell phones, individual locations could only be pinpointed within roughly a mile, Lillie Coney, associate director of the Electronic Privacy Information Center (EPIC), told TechNewsWorld.
The addition of GPS capabilities has "elevated the ability to track users, so that now you can track a person within feet of where they are," Coney explained.
Good and Bad
That can be a good thing, such as in situations where an individual is in distress and needs to be found. Now, however, there are new services offered by cellular providers that make it possible for virtually anyone with a user's cell phone number and Social Security Number to set up an account and track where the cell phone is, she asserted.
"It's often packaged as a feature for parental control, but of course those with ill intent can do the same," she said.
The end result, then, is that "the line between what should require a court order and what can be gotten just through knowledge of the technology is being blurred," she said.
On the government level, that raises questions such as "is this ability being abused without a court process to control when, where and how these features are being used?" she noted. "Right now, there's no way to report back to the consumer."
Delicate Balance
Modern information-gathering tools are growing in power, one result of which will be a continuing encroachment on individual privacy concerns, Raymond Van Dyke, a technology attorney in Washington, told TechNewsWorld.
"The social balance of an American's right to privacy against the needs of a government charged with the protection of its people will be fought over and over as technology becomes more flexible and actively or passively more invasive," Van Dyke explained.
"Clearly, individuals have an expectation of privacy in the use of their phones and other electronic equipment," he noted. "However, law enforcement perhaps should be entitled to some use of information generated from the public usage of such equipment, a public use which could be argued to lower the expectation of privacy."
The balance is a delicate one, Van Dyke concluded, "and we, a nation founded on liberty, should be ever mindful of the balance."