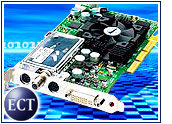 ATI Technologies, the three-dimensional graphics chipmaker, today announced HyperMemory, a technology that allows a PC to use system memory for graphics processing.
HyperMemory uses the high-speed bidirectional data transfer capabilities of PCI Express to store and access graphics data in system memory, which could lead to less dependence on dedicated graphics memory, the company said in a statement.
Easing Bottlenecks
Currently high-grade graphics hardware relies on dedicated video RAM (VRAM) for storing textures and rendering data.
Because of bottlenecks between the graphics processor and the system memory, only low-performance systems have used system memory for graphics processing. ATI claims that PCI Express allows graphics cards to rely on system memory.
PCI Express has been growing more common in the PC market but has not yet appeared in the Mac.
Less On-Board Memory
According to ATI, under previous standards, the data transfer between the visual processor and the CPU was not fast enough for real-time graphics applications, so graphics cards have shipped with up to 256 MB of VRAM.
HyperMemory allows ATI to deliver cards with less on-board memory. The result is a lower overall PC cost for the same performance, the company said.
According to ATI, HyperMemory uses intelligent memory allocation algorithms to optimize the use of available local memory and ensure critical components are placed in fast local memory when required.
Assignment of data to local or system storage is determined dynamically. HyperMemory also increases the performance of system bus data transfers.
Graphics cards featuring HyperMemory technology will be announced later this year, ATI said.