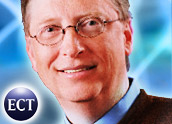 The Bill & Melinda Gates Foundation has given a US$42.6 million grant to the Institute for OneWorld Health to create a cure for malaria.
OneWorld, America's first nonprofit pharmaceutical company, will work with the University of California, Berkeley, and Amyris Biotechnologies, according to a statement from OneWorld.
The research will focus on drugs containing the compound artemisinin, an extract of the wormwood plant. Treatments using this drug have shown nearly 100 percent effectiveness after a three-day regimen. These regimens, however, cost $2.40 per adult course, a price too high for the world's poor. The new partnership will attempt to bring down the cost of treatment to under a dollar.
Scientific Breakthrough
UC Berkeley will create a microbial factory for artemisinin. Amyris, a new biotech company, will develop the process for industrial fermentation and commercialization. OneWorld Health will perform the drug development and regulatory work.
Extracting artemisinin from the wormwood plant is labor intensive. UC Berkeley will complete development of a synthetic process to procuce artemisinic acid, a precursor to artemisinin.
Amyris will develop processes to produce large quantities of artemisinic acid and chemically convert it to artemisinin. These processes will be scaled to meet the demand for low-cost pharmaceuticals in developing countries, according to OneWorld.
Heavy Toll
Each year, between 300 and 500 million people, most of them poor, become infected with malaria, and at least 1.5 million die, primarily children in Africa and Asia.
"This is an extraordinary partnership between public and private institutions that combines cutting-edge science with a commitment to affordability and accessibility for those people in need," said Regina Rabinovich, director of infectious diseases at the Gates Foundation. "I hope that UC Berkeley's participation will serve as a model for other academic institutions to apply their scientific knowledge and resources to critical global health problems."
The nonprofit nature of this partnership could be a model for attacking neglected diseases in the developing world, said Jay Keasling, professor of chemical engineering at UC Berkeley, who created the genetically engineered microbial drug factories. The technology that makes the project possible was developed by Keasling and his Berkeley team over the past 10 years.
"In many ways, this project is a dream project: interesting science, high technology, rapid transition from the bench to the bedside, and most important, critical need," he said.