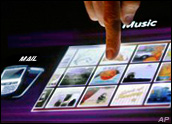 Surface, Microsoft's newly developed touch-screen interactive tabletop display, will be available beginning April 17 in select AT&T stores, including those in New York, Atlanta, San Francisco and San Antonio. The success of the initial appearance of the technology will determine how many of AT&T's 2,200 stores it eventually will reach, the companies said.
Surface, a 30-inch table-like display, allows one or multiple users to manipulate photos, videos and other types of media via touch, gestures and placement of devices on the display. The interactive touch displays, which Microsoft unveiled last year, work without a traditional mouse or keyboard.
"Microsoft Surface transforms the retail environment from a transaction destination to a customer engagement destination," said Robbie Bach, president of Microsoft's entertainment and devices division.
"With innovative and intuitive ways of accessing information and digital content on Microsoft Surface, consumers now have an entirely new, unique and personalized shopping experience."
Showcase for Mobile Devices
For both companies — particularly Microsoft — Surface displays in AT&T stores are a chance to showcase potential applications in other areas.
"It's hard to see how Microsoft is going to make money on it, but the technology itself might find its way into the next generation of its products," Jonah Stein, chief executive officer of Itstheroi.com, told TechNewsWorld.
Indeed, AT&T sees Surface as a nice showcase for possible applications in mobile devices, said Ralph de la Vega, president and CEO of AT&T Mobility.
"We look forward to working with Microsoft to continue developing new ways for our customers to learn about the ever-growing lineup of mobile devices and applications," he noted.
Customers will be able to use the Surface unit to gauge the features of a handset by placing it on the display and even compare side-by-side units.
The Surface displays also will provide interactive coverage maps at the national, local or street level, giving users the ability to move maps and determine their mobile phone coverage area.
In the future, customers will have the ability to drag and drop ringtones, graphics, video and other items by "grabbing" content with their hands from a menu on the display and "dropping" it into a phone.
The partnership represents "a showcase for Microsoft as an innovator. It's as much about publicity as about business," Greg DeMichillie, lead analyst at Directions on Microsoft, told TechNewsWorld.
However, "I think this is still very much what I'd call a 'science project,'" he added.
Other Possible Uses
The touch technology is interesting, nevertheless, DeMichillie said. "You might think Microsoft might hope to learn something about touch that it can incorporate into its mobile phones."
DeMichillie wondered whether there is much upside for AT&T. "I fail to see how that's going to be so much better, that AT&T is going to sell more phones because of it. Somebody invented some tech and now they're trying to find some way to get it in front of the public."
However, Surface might have some future application for personal computers, noted Roger Entner, senior vice president at IAG Research.
"It's a very natural way of interacting with devices or data and information," he told TechNewsWorld.
Surface could make its way into corporate settings, Stein predicted. "We don't interact with most media on a hands-on basis. It's an interesting collaborative tool for people working together in a conference room."
For AT&T, whatever long-term benefits Surface might offer, the technology likely serves at least one purpose, Stein noted. "Basically, they're trying to use it as an interactive sales tool in their stores."