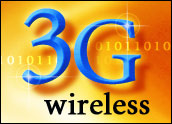 AT&T and T-Mobile both announced on Tuesday that they have upgraded their 3G networks with technology enabling faster speeds.
Specifically, the carriers have both deployed HSPA 7.2 technology at their cell sites across the United States.
That technology will improve consistency in accessing data sessions, AT&T said, as well as increase network efficiency. Faster speeds will come as AT&T increases the number of high-speed backhaul connections to its cell sites, primarily with fiber-optic connections, over the course of this year and next.
The combination of HSPA 7.2 technology and enhanced backhaul will support the technology's theoretical peak maximum speeds of 7.2 megabits per second, AT&T said.
HSPA+ Deployment
T-Mobile, meanwhile, also has HSPA 7.2 enabled across its entire 3G network, which now reaches more than 200 million Americans, company spokesperson Amanda Ginther told TechNewsWorld.
T-Mobile is also the first carrier to launch faster HSPA+ technology in the United States, Ginther said, and it plans to continue deploying that technology "across the bulk of its 3G footprint this year, delivering three to five times the speeds of today's 3G."
HSPA+ is backward-compatible, "so T-Mobile 3G-enabled devices will be faster in 2010," she added.
Relatively Limited Coverage
Both T-Mobile and AT&T have been criticized for the relatively limited coverage of their 3G networks.
Indeed, though much criticism has fallen on AT&T, T-Mobile's coverage is even smaller, Chris Hazelton, research director for mobile and wireless with the 451 Group, told TechNewsWorld.
Nevertheless, there's no disputing the popularity of the AT&T-based iPhone, and T-Mobile just became the only carrier to subsidize Google's newly announced Nexus One.
Not All Devices Affected
How much of a difference the new upgrades will make to users depends on several factors, Hazelton said.
"Theoretically, the speeds are doubled, but really it depends on what your device is set to download, and even more on whether the device can handle 7.2," Hazelton explained.
AT&T and T-Mobile each have several devices that can handle the new 7.2 megabit per second speeds, he pointed out. "Notable for AT&T is the iPhone 3GS, while T-Mobile has the MyTouch 3G — an Android device — along with the Windows Mobile-based HTC Touch Pro2 and the Motorola Cliq."
Strong Signal Necessary
So, in major metropolitan areas where coverage exists, consumers with one of those devices browsing without WiFi should see faster speeds, Hazelton said.
Consumers also need a strong signal to get the fastest speed, Allen Nogee, a principal analyst with In-Stat, told TechNewsworld.
"If your signal is weak, your phone uses a lower speed," he explained.
All in all, "it's definitely a benefit, but many people won't notice" the upgrade, Hazelton asserted.
Important – 'to a Point'
"I think smartphone speeds, to a point, are important to users," Nogee opined.
"EDGE speeds are noticeably slow, but once you get up to about 750KB/sec or 1MB/sec speeds, faster speeds really can't be utilized by most phones," he noted. "Watching streaming videos — about the most data-intensive task users do with a phone — is limited by the frame rate and resolution, and since phones have quite small screens, faster data rates don't usually translate into any better picture."
So, while 3G is important, "really fast 3G and 4G probably won't mean a great deal to phone users," he predicted. "Maybe slightly faster Web pages, but not a whole lot more."
On PCs, netbooks and other, bigger devices, on the other hand, "it's much more important and can be better utilized," he said.
'Rapid, Continual Upgrade'
Of course, the entire cellular industry is in the middle of "a very extensive and very expensive continual upgrade," so it's probably not worth worrying about "which carriers have how much of their networks upgraded," telecom analyst Jeff Kagan told TechNewsWorld.
"The wireless network is not just about making calls anymore; it's about the wireless Web and all the extras," Kagan pointed out. "In order to remain competitive, all the carriers have to be able to meet and beat the competition. Therefore, we are seeing — and will continue to see — a rapid continual upgrade of every major competitor."
So, "3G matters, but the carriers are all upgrading quickly," Kagan concluded. "The bottom line is the networks are getting faster and can do more, while trying to stay ahead of the demand curve."