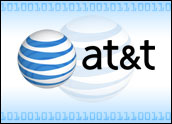 AT&T announced the launch of its new AT&T Mobile TV service Thursday. Beginning May 4, subscribers to the service with a handset designed for mobile viewing will have access to as many as 150 simulcast or time-shifted programs, including live sporting events.
The service will finally roll out in 58 markets including Atlanta, Chicago, Dallas and others, roughly five months behind schedule.
TV to Go
AT&T users will be able to choose from a range of 10 news and entertainment channels such as CBS Mobile, ESPN Mobile TV and Nickelodeon. The wireless carrier is also offering two exclusive channels PIX and CNN Mobile Live.
PIX brings programming and movies from Sony Pictures Television to the handset. The channel will show everything from comedies to cult classics, action films and family favorites culled from the movie studio's extensive library.
News junkies can get their fix 24/7 with access to CNN Mobile's 24 hours of live streaming breaking news coverage. They can also check out popular programs including "American Morning," "CNN Election Center" and "CNN International."
To celebrate the launch of the service, AT&T will also offer CNCRT for a limited time. The special concert channel will present performances from artists such as Avril Lavigne, Fall Out Boy, Jay Z and Rage Against the Machine. Each day the channel will run one of some 30 recently recorded concerts for 24 hours.
Who's Watching?
Based on Qualcomm's MediaFLO technology, AT&T's service will make its bow a little more than a year after Verizon launched its V Cast Mobile TV service, which uses the same technology.
The head start will not benefit either carrier, however, given that mobile TV is not high on the list wireless subscribers' demands, said David Chamberlain, an analyst at InStat.
"I don't think this will ever be a technology play. Look at how popular YouTube is. It's not technology at all. It's content. It's a matter of providing what people care about. Take a look at the channel lineup on the MediaFLO Web site. There are six channels. I'm paying $50 a month for my cable and get those very same channels. Why would I spend another $15 to get them again?
"Everything I've seen in my surveys says U.S. consumers would be interested, but aren't willing to pay for it," Chamberlain pointed out.
About 4 million wireless subscribers have signed up for mobile TV services, according to Tole Hart, a Gartner analyst.
"It's not a huge blockbuster service, but some people use it. It is a small niche, with 'small' the operative word," he told TechNewsWorld.
Tole's numbers point to a key question, according to Charles Golvin, an analyst at Forrester Research.
"Do people really want this?" he queried. "My impression from our 2006 data is that only about 11 percent said that they were interested in any of the content we asked about and were willing to pay. Another 17 percent said they were interested but not willing to pay, and about 71 percent were not interested and not willing to pay," he told TechNewsWorld.
Currently, not a lot of people view these types of services as a valuable feature, Golvin continued. That said, he believes in the long run the service will be a success.
"We Americans tend to like our video, and we have it in all sorts of places, like supermarkets and gas stations and other places. Generally, people like to watch TV. And this provides the ability to waste a few minutes of time, catch up on the news, on sports. That's kind of the way that content gets consumed on mobile phones. Games and things like that are about reclaiming lost time," he explained.
Fear of Financial Commitment
AT&T Mobile TV will only be available to subscribers using either LG's Vu touch-screen handset or the Access from Samsung.
Plans begin at US$15 a month for the "Basic" package, which includes unlimited access to the service as well as CNCRT. For $30, the "Mobile TV Plus" package adds unlimited mobile Web browsing on AT&T's Media Net and unlimited CV mobile video.
Users can also opt for the "limited" basic package for $13 a month, which offers CBS Mobile, Fox Mobile, NBC 2Go and NBC News 2Go.
However, before the service is able to take off, carriers will have to find a way to bring down the price of mobile TV, according to Golvin.
"The current price points are little bit too high for that more mainstream success to be manifest. This is still priced to people who are the enthusiasts, people who must have it. That's going to be a relatively small percentage of the population," he said, adding that prices should eventually come down.