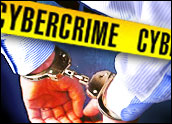 Police in Australia have arrested a 24-year-old who claims to be a high-level member of the international hacking collective Lulzsec.
The IT worker was charged with two counts of unauthorized modification of data and one count of unauthorized access to/modification of restricted data. In other words, he attacked and defaced a government website.
Lulzsec was formed in 2011 and is a cousin to the hacking collective Anonymous, which has been known to hack a government site or two itself.
Lulzsec has claimed responsibility for carrying out hack attacks on the CIA, Sony Pictures, the UK's Serious Organized Crime Agency and others. Earlier this month, a Lulzsec hacker in the UK admitted guilt for some high-profile hacks of his own.
Police in Australia wouldn't say which website the suspect is believed to have hacked into. They did say, however, that no sensitive data was stolen.
Anonymous Australia, however, is not convinced the man is anywhere near the top of the hacking hierarchy. On Twitter, the group replied to a question about the suspect by saying he was not part of its network.
[Source: The Guardian]
State-Sponsored Hacking a Huge Chunk of Attacks
Research from Verizon's Data Breach Investigation Report 2012 suggests that 19 percent of all cyberattacks were carried out by state-sponsored hackers.
In 2012, there were more cyberespionage incidents than ever before — but despite the wealth of suspected state-sponsored attacks, the majority were carried by criminals looking for a quick buck.
Researchers analyzed more than 47,000 "security incidents," including 621 confirmed data breaches.
The report corroborates findings from Mandiant, a U.S. security firm, which claimed the Chinese military was responsible for years of cyberespionage.
[Sources: Verizon; The Register]
No Fees for Chinese Messaging Apps
There has been an ongoing debate in China about whether or not Tencent, which owns the hugely popular messaging app WeChat, will have to pay fees to telecommunications companies for running its free service on telecom networks.
It was expected that such fees would indeed be levied, but now a spokesperson for the Ministry of Industry and Information Technology has said it would not get involved in requiring the fees, leaving the market to make that decision.
This comes as bad news to Chinese telecoms. They were hoping to get a kickback from Tencent, which reportedly has more than 250 million users in China.
The ministry's decision to stay out of the debate stems from not wanting to stymie potential future development of Chinese mobile startups, Tech In Asia opined.
[Source: Tech In Asia]
Helping, Grieving on Chinese Social Media
Chinese social media platforms were full of mourners in the wake of last week's earthquake in Sichuan Province, the same province devastated by a powerful earthquake in 2008.
The recent earthquake is China's most serious natural disaster since social media took hold, and users took to the Web. Millions of messages have been posted to microblogging platforms like Sina Weibo and Tencent Weibo, which are akin to Twitter.
Some more prominent users posted messages saying that they would repost any messages they received asking for help. Other users tweeted traffic updates, urging volunteers to avoid roadways that were already bottlenecked.
[Source: Tea Leaf Nation]