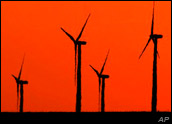 Australian renewable energy firm Epuron, a division of German Conergy, plans to build what may be the world's largest wind farm in the outback of Australia, the company announced Monday.
With plans for between 400 and 500 turbines, the A$2 billion (US$1.8 billion) project in Australia's New South Wales (NSW) state could deliver 1,000 megawatts of clean renewable energy, providing enough power for about 400,000 homes and roughly 4.5 percent of the region's electricity consumption in a typical year, the company said. That, in turn, could reduce Australia's greenhouse gas emissions by 3 to 3.5 million tons of carbon dioxide each year, it added.
If built today, the project would be the largest in the world, Epuron said. Construction is due to begin in stages in late 2009, beginning with 150 turbines in the southern end of the Mundi Mundi and Robe Ranges in western NSW. Epuron will soon embark on community consultations and government approval processes, it said.
Site Selection
"Our wind-monitoring equipment north of Silverton in western NSW has revealed an amazing wind resource," said Martin Poole, executive director of Epuron. "This project will provide jobs and dollars for regional economies and play a significant role in addressing Australia's climate change challenge."
Epuron has a wind-monitoring network across NSW on sites identified for their wind development potential. "NSW has an excellent resource on a worldwide basis, competitive with wind farms in better known wind regions like Tasmania and South Australia," Poole said.
The project is likely to be the first in Australia to use wind energy production forecasting and actively bid into the National Electricity Market, Epuron said.
Growing Sector
Wind power has grown rapidly over the past decade, and is now a significant contributor in the power sector in an increasing number of countries, according to the Global Wind Energy Council. By 2020, wind energy could supply as much as 16 percent of the world's electricity supply, saving 1.5 billion tons of carbon dioxide per year, it said.
"Wind is great because it means zero greenhouse gas emissions," Tim Ballo, an associate attorney with Earthjustice, told TechNewsWorld. "No matter what we do in terms of reducing demand for electricity, there's always going to be a certain level of demand that has to be met, and wind is a great way to do it."
Wind is also the only energy source that does not rely on water, Epuron said — a key feature in times of drought.
The key issue in selecting sites for such wind farms is to find areas with "lots of wind and not many birds," Ballo added. "From what I know of the Outback, it seems like that would be a good place."
Larger and Larger
The planned size of this wind farm, though certainly very large, is "not even shocking," Stefan Noe, president of Midwest Wind Energy, added.
"It probably would be the world's largest wind farm, but these kinds of projects keep getting larger, even in the United States," Noe told TechNewsWorld. Midwest Wind has a project planned just within Illinois that would amount to roughly half the size of Epuron's planned NSW farm, he added. "The industry is moving toward larger-scale projects," he said, since those allow companies to reap economies of scale. "It seems completely feasible," he said.
In addition to the obvious environmental benefits, wind farms offer a number of economic advantages as well, Noe said. "These projects can provide enormous economic development benefits to rural communities, with steady lease payments to landowners, new construction jobs, and addition to the property tax base," he added.
Epuron's NSW wind farm is expected to create between 50 and 100 new jobs in the operation and maintenance of the facility, the company said.