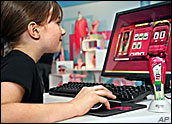 Mattel, maker of the iconic Barbie doll, announced Thursday that Barbie will go online with BarbieGirls, a new virtual world. The site offers the opportunities to create a virtual character, play games and chat with other girls. The toy company also plans to release the "Barbie Girls" device, a doll-shaped MP3 player, in July.
"Our focus since the early to mid-1990s has been to give girls rich content through our dot com site. We've always been engaging girls in an online form. The Barbie Girl initiative is our recognition of a couple things," Chuck Scothon, general manager and senior vice president of Girls, Mattel Brands, told TechNewsWorld.
"Watching the trends as they relate to the role of online communities, that provide the chat and the social and the virtual worlds, and that it is now reaching enough of the girls for us to make the investment in content for them, and enough of them can embrace and understand it."
BarbieGirls follows Barbie.com, which, according to Scothon, averages 65 million visitors a month.
No Boys Allowed?
BarbieGirls.com is the first virtual world designed exclusively for girls, according to Mattel. Once registered, girls can create their own virtual character, or avatar, choosing from some 2.64 quadrillion character combinations, including fashions, accessories, faces, expressions and hairstyles.
Each avatar also comes with its own personal room girls can customize with more than 4.6 quintillion combinations of room colors, floors, backgrounds and furniture. Depending on their mood, girls can change up their look or decor at every time they log in.
After they have their looks and room together, girls can hit the mall and shop with B Bucks, virtual money they can earn, as well as play games, watch videos, send e-mail and chat in real-time with other girls. On BarbieGirls.com, chatting takes place on two levels, "B Chat" and "Secret B Chat." Chats can take place in public zones or a girl's room.
In July, Mattel plans to release its BarbieGirls device, an MP3 player that also doubles as a fashion doll. Girls can personalize the device using a plethora of customizable fashions and accessories.
Along with its music and fashion components, the player will also serve as "a 'key' to unlock additional new pets, games, hangout spots, fashions, furniture and more" within the virtual world, Mattel said.
"This is a recognition by toy manufacturers of electronic oriented toys, No. 1; No. 2 — computer games; and No. 3 — Web-based entertainment," Mike Goodman, a senior analyst at Yankee Group, told TechNewsWorld. "That's what this really is, a combination of those three macro trends."
Safety First
To safeguard its users, Mattel has created a word filter that blocks personal information, such as phone numbers, names and addresses, as well as inappropriate, sexual or hurtful language and profanity. The site also offers girls the ability to lock or open their rooms to other users and also block users to prevent them from making contact on the site.
Girls can also report other users who exhibit inappropriate behavior. BarbieGirls.com administrators also have a host of robust moderation tools and can monitor chat and ban users who participate in objectionable behavior.
The Barbie Girl MP3 player also doubles as a security device. For girls to hold a private "Secret B Chat," each must have the Barbie Girl device and have physically connected their device to each other's computer docking station.
Trying to Connect
The Barbie franchise is one of the most profitable in the history of the toy industry, Rob Enderle, principal analyst at Enderle Group, told TechNewsWorld, but it clearly is not what it once was.
While international Barbie sales have risen some 2 percent, in the U.S. sales have fallen 21 percent during the first quarter of 2007, ending four consecutive quarters of increased sales. Part of the dip in sales in the U.S. is blamed on archrival MGA's pouty-lipped Bratz dolls.
"This is an attempt to revitalize the franchise and reconnect with a demographic that is increasingly online and more interested in social activities than in dolls alone," Enderle said.
Mattel has essentially created a social network for young girls, Goodman explained; they just don't call it a social network. "It has a lot of the same attributes as Facebook, but designed for eight-year-olds," he said.