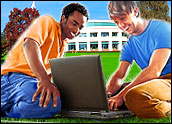 Behind the Paywall, Part 2: You Gotta Have a Gimmick
Fan sites are immune from many of the Achilles' heels that plague other media outlets.
Indeed, people don't need fan sites to be in the know. When news breaks about a player, it will within moments be splattered all over the Web. But even if fans don't need these sites for news, they need them for camaraderie.
This is one of the things that insulates fan sites from the paywall pitfalls that have ravaged other media outlets, according to Eric Winter, senior director of sports and entertainment at Yahoo.
"That's where the passion comes through," Winter said. "Once you read a thousand-word article about a player, you want to talk with people about it, share your thoughts about it. That's where those boards become so important, and that's one of the reasons why these sites will continue to thrive."
Model of Success
As with most nooks of the media industry, it's no sure thing what will happen to fan sites in the future. Maybe a wave of free message boards, coupled with ever-easier dissemination of information via Twitter or some as yet unborn medium, will conspire to overwhelm this business model.
That said, these sites are thriving behind their paywalls. While Scout and 247Sports declined to comment for this story, Yahoo's Winter said that Rivals has grown each year since it partnered with Yahoo. As if to prove its vitality, Rivals recently launched a fan site for the lowly Arkansas State Red Wolves. Texas State, best known as the snake-bitten program in the 1991 film "Necessary Roughness," is launching next.
All of which makes you wonder if it's more than exclusivity that distinguishes fan sites from their failed paywall peers. Any number of movie review pages or restaurant reviews have interesting and indeed exclusive content.
But sports, and recruiting in particular, appeal to something more emotional than, say, the latest dirt out of Hollywood.
To wit, Gator Bait publisher David Stirt once received a call from a Florida alum who was working for an oil company and wanted to get the latest recruiting news. That's not striking, but this is: The guy was calling from Saudi Arabia.
"Fans have such an intensity of interest, and it means so much for them," Stirt said. "And that's been the culture of sports in this country forever. People are gung-ho about the teams they follow, and crazy as it sounds, it means more to some of them who will be playing in the future than who is playing now.
"It's always this looking forward," he said. "'Who's the next guy? Who's the next big thing?'"
Investing in the Future
Maybe that's why Gator Bait was falling over itself to get scoops on recruiting back in 1990. Sure, things weren't going all that well at the time; Miami and FSU owned the state, and Spurrier wasn't yet a known coaching commodity (his only head coaching stints had been with Duke and the Tampa Bay Bandits).
But instead of tempering interest, these might have been the very reasons that Stirt couldn't make an outgoing call, or that people were phoning up from the Persian Gulf. Because even if things aren't going well in the now, there is always the future, and recruiting is all about the future.
Indeed, the future was bright down in Florida. Spurrier spearheaded a football renaissance, leading the Gators to conference championships in six of his 11 seasons in Gainesville, including a national championship in 1996.
The members of the 1990 recruiting class were the foundation for all of this, the first building blocks. And the people who called Stirt's 900 number were, in a vicarious way, part of the construction. They were architects bound by football and optimism. That, and a willingness to fork over money to see what Terry Dean and Lateef Travis had decided.