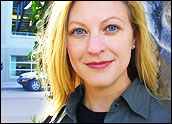 Late last month, the British House of Lords approved a so-called "designer baby," escalating the debate over genetic engineering and other body enhancements. Fortunately, the new book More Than Human helps to calm hysterics and explain the issues.
Zain Hashmi is a six-year-old boy born with beta thalassaemia major, a potentially fatal genetic disorder in which the body doesn't produce enough red blood cells. In order to live, Zain must take a cocktail of drugs and receive regular transfusions. His parents Raj and Shahana are hoping to use in vitro fertilization (IVF) to produce a second child who, in addition to becoming part of the family, could also help save Zain's brother's life.
Slippery Slope
Since 1978 when Louise Brown, the first "test tube" baby, was born, in vitro fertilization has become common and accepted for couples that have trouble conceiving. In the United States, one out of every one hundred births is conceived through IVF and in Europe the rate is even higher.
What was controversial about the Hashmi's IVF request was that the couple wanted their doctor to select the embryo to be implanted for a certain tissue type — one that could potentially help their first child who is ill and suffering. But not everyone thinks this is a good idea.
Some fear that selecting a child based on genetic make-up will take us down a slippery slope towards a freakish non-human society. These fears, which temporarily stood in the way of the Hashmis's pursuit of a cure for their son, are an important part of the dialogue in our ever-evolving society. In More Than Human, author Ramez Naam helps to answer these concerns.
What It Means To Be Human
Perhaps the most important message of Naam's book is that it is entirely human to want to improve our children and ourselves. In that sense, the title really should have been Being Human, but perhaps that's not as strong a marketing hook.
"Never to say enough, always to want more — that is what it means to be human," Naam writes. Even respected bioconservative Leon Kass seems to agree. Naam quotes Kass as saying, "Our soul's reach exceeds our grasp; it seeks more than continuance; it reaches for something beyond us, something that for the most part eludes us."
Indeed, most of human history is a testament to the idea that striving for progress is a core human trait. Through many individual actions, we have collectively built dwellings, discovered agriculture, developed medicine, uncovered electricity, gone to the moon, and created sophisticated tools like the Internet — the invention that allows you to read this article right now. And the urge to keep improving is strong.
Directing Progress
In the course of explaining the benefits of biological enhancement, More Than Human does a good job of outlining where scientific progress stands now and where it might go. For instance, scientists have already figured out how to connect a paralyzed person's brain to a computer in order to allow him to communicate with others simply by thinking. In the future, such advances might lead us to a place where people's brains could be constantly hooked up to a network, if they so chose, allowing them to more fully and accurately communicate with others or check facts at another location.
Scientists have also made great advances in anti-aging research, figuring out, for instance, that changing a letter in a worm's genome can double its lifespan and that increasing the human body's defenses against electrically charged molecules called "free radicals" may extend life. Naam also points out the economic benefits that could flow from a healthier, younger feeling population.
If people can be healthier longer, they can work for a greater period of time, thereby boosting productivity and reducing social security rolls. But that will only take place in a society that embraces change and the future.
Those who fear advancing technology as it applies to a human context serve as a reminder for sober second thought, as not all change is good. But when we can create the means to improve our communication and keep ourselves alive longer and in a healthier state, the benefits of such change appear to outweigh the costs.
If the Hashmi's IVF baby is successfully delivered and can help its sibling in the process, that would give more, not less, meaning to that individual's life. After all, helping each other is another classic human trait.
---
Sonia Arrison
, a TechNewsWorld columnist, is director of Technology Studies at the California-based
Pacific Research Institute
.
---