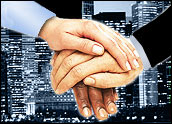 IBM and Sun Microsystems announced Thursday the two long-time rivals have formed a partnership that will bring Sun's Solaris operating system to IBM servers. The "comprehensive relationship" will see both companies embark on a mission to jointly serve enterprise clients seeking to run the OS on IBM's BladeCenter servers and IBM System x servers.
IBM will support Solaris 10 on select x86-based IBM System x and BladeCenter servers, including BladeCenter HS21 and LS41; and System x3650, x3755 and x3850.
Meanwhile, once the hardware is installed, Sun will provide all levels of support. Both companies will also invest in testing and system qualifications to enable Solaris reliability and performance for BladeCenter and System x servers.
'Tectonic Shift'
Nearly 10 million licenses for Solaris 10 have been distributed over the past two years, making it the fastest growing OS in Sun history, said Jonathan Schwartz, president and CEO of Sun. The venture validates the success of the OS, and IBM becomes the first major x86 vendor to sign a deal of this type with Sun, he maintained.
"From my vantage point, given IBM's scale, industry presence and market leadership, there is no more important tier-one relationship to accelerate the success we've begun to see with Solaris," Schwartz said. "This relationship, to us, represents a tectonic shift in the market landscape, not just from a historical perspective, but a shift that represents new market opportunities for the both of us — opportunity we're better positioned to capture working together than apart.
"Years back, Sun and IBM changed the industry with Java, and I'd like to believe we have another bite of that apple with what we are beginning today," he continued.
The Enemy of My Enemy
Though Sun and IBM were at one point the fiercest of competitors, IBM already had a limited amount of support for Solaris on some of their Blade servers, and customers had been loading the OS onto their machines with IBM's encouragement, Al Gillen, an IDC analyst, told TechNewsWorld.
Asked whether the development came as a surprise, Gillen responded, "Yes and no. This a pretty dramatic expansion of that relationship. The writing was on the wall that they could expand it, but the problem is they have been long, long-term competitors, and could they really do that?
"Obviously, the answer is yes," he added.
The two companies see their newly formed cooperative relationship as a benefit to the server marketplace in which clients have increasingly demanded greater integration, according to George Weiss, an analyst at Gartner.
"They realized they really need to look at the bigger picture rather than their own tactical needs," Weiss said. "I think there is some intelligence behind the decision, but they were quick to respond that they are still competing against each other."
The companies' individual sales activities will have to be monitored, Weiss continued, as far as whether the expression of "cooperation" bears out.
Who Wins?
Sun, which has been focusing more on software sales than that of their own hardware, gains a larger audience for their OS. IBM can look forward to an increase in hardware sales. Users may also benefit, as the deal provides them more choices and greater flexibility, allowing them to migrate smoothly to an IBM server without having to rewrite their applications.
While both companies win, Gillen explained, they do so under different metrics and different time frames.
"IBM wins in the short term in the respect that IBM has the opportunity to get more hardware sales," he said. "You have to understand the dynamics of their customer bases. There certainly are a lot of accounts where Sun and IBM both have interests in a particular account. Those are places where IBM is probably going to come out more favorable over Sun in as much as some Sun hardware will wind up being replaced by IBM hardware in those shops."
The negative of that for Sun is offset over the long term, Gillen pointed out. Sun needs Solaris to be successful and become pervasive so that it can compete with Linux as an industry standard solution on all hardware platforms.
"That is something Sun has been striving for, but Linux is already there," he noted. "Look beyond the announcement today and think about what's coming next."
What's Next?
Next, according to Bill Zeitler, senior vice president at IBM Systems and Technology Group, is to bring Solaris to the company's other platforms, including System z, something technicians have already begun working on, as well as System p.
"The long term payback for Sun is that they get Solaris to be on a lot more platforms than it is today, which makes it much more competitive with Linux," Gillen added.
For enterprises, it means that while they are dealing with two companies that are competitors, it will not be in an environment in which "arrows are zinging back and forth," Weiss explained.
"There has been some pretty hostile past history between the two vendors. This at least results in a more business-friendly environment for the end-user," he continued. "It may help to speed the decision cycle, because if they are arguing back and forth and the users take instead of a few months to make a decision it takes six to nine months more, that is to both of their detriment."