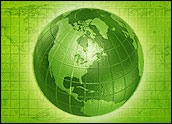 Four multinational corporations, five global banks, sixteen cities and former President Bill Clinton have formed a consortium dedicated to retrofitting buildings in order to reduce energy consumption and greenhouse gas emissions, according to an announcement from the Clinton Foundation Wednesday during the C40 Large Cities Climate Summit in New York.
ABN AMRO, Citi, Deutsche Bank, JPMorgan Chase and UBS banking institutions have pledged US$1 billion each for the Energy Efficiency Building Retrofit Program, which will provide cities and private building owners with the capital to retrofit existing structures with more energy-efficient technologies.
"Climate change is a global problem that requires local action," President Clinton said. "The businesses, banks and cities partnering with my foundation are addressing the issue of global warming because it's the right thing to do, but also because it's good for their bottom line."
"They're going to save money, make money, create jobs and have a tremendous collective impact on climate change all at once. I'm proud of them for showing leadership on the critical issue of climate change and I thank them for their commitment to this new initiative," he continued.
Tools for Measurement
In addition to its retrofitting initiative, the Clinton Foundation announced a partnership with Microsoft Thursday to develop new technology, including software and Web applications, to help cities track and share strategies to reduce their carbon emissions.
The software tools would create a standardized method for cities around the globe to measure their greenhouse gas emissions. Using a common standard, cities would then be better positioned to gauge the effectiveness of their carbon-reduction initiatives.
Microsoft said the free software should be available by the end of 2007.
Building Green
Cities use about 75 percent of all energy, and are responsible for the transmission of 75 percent of greenhouse gases into the atmosphere, according to the Clinton Foundation. Buildings in these urban areas are responsible for roughly 40 percent of global greenhouse gas emissions, with structures in older, larger cities such as New York and London accounting for nearly 70 percent. Retrofitting older buildings would provide energy savings between 20 to 50 percent.
Sixteen cities, including New York; Chicago; Houston; Johannesburg, South Africa; Melbourne, Australia; Mumbai, India; Sao Paulo, Brazil; Toronto; Mexico City; London; Berlin; Tokyo; and Rome, will be the first to benefit from the $5 billion worth of financial aid that will pay for projects like replacing heating, cooling and lighting systems with newer, energy-efficient technologies, installing energy-efficient windows, and updating roofs with reflective or white materials to reduce absorption of the sun's heat.
"It is a potentially interesting idea, though [I'm] not sure of [its] odds of success at this stage," Jeff Lipton, managing director of investment banking at Jefferies & Company, told TechNewsWorld. "Much focus has been on generating alternative energy at a lower cost, [competitive with traditional fossil fuels]. This need is clear, but much less focus has been on reduction in usage, and at the end of the day, that is an important part of the overall equation.
"No one technology or approach will solve or address the current situation," he added.
Green for Green
Honeywell, Johnson Controls, Siemens and Trane will conduct energy audits, perform building retrofits and guarantee the project's energy savings. Meanwhile, energy efficiency finance specialist Hannon Armstrong and the Clinton Climate Initiative, in partnership with the banks, will create mechanisms to deploy the capital globally. City governments and building owners plan to repay the loans with money generated from the energy savings achieved as a result of the retrofit.
However, the savings may not be sufficient for less wealthy municipalities and building owners to repay their loans, according to Sanjiv Bhaskar, director for the Environmental & Building Technologies Practice at Frost & Sullivan.
"It will depend on the savings potential in each case," he told TechNewsWorld. "In some cases it will have a higher return on investment; in some cases it will have a lower return on investment. Energy audits will help in narrowing down on the cases with highest return on investments."
The selected cities have agreed to develop a program to make their municipal buildings more energy efficient and provide incentives for private building owners to also undergo the retrofit to make them more environmentally friendly, the foundation said. The program will be consistent with city procurement and tendering rules.
Local banks and other companies will also be invited to contribute to the project's funding pool and to increase the list of green products used in the retrofits.
Old Versus New
The top ten carbon dioxide emitting countries are the U.S., China, Russia, Japan, India, Germany, Canada, the UK, South Korea and Italy, according to Frost & Sullivan. The U.S. and China rank No. 1 and No. 2, respectively, by a significant margin.
With developing countries such as China and India undergoing a building boom, some environmental experts believe it would me more prudent to ensure that those buildings are energy efficient and benefit from the latest green technologies.
"The funds need to be applied where it makes sense to do so," James Wilson, author of The Alternative Energy Blog, told TechNewsWorld. "But I heard a statistic the other day that by the time a child in the West is two-and-a-half years old, it has produced more carbon emissions than someone in Tanzania will do over the course of their entire lifetime.
"The West is where the bulk of carbon emissions are being generated at the moment," he continued. "There are obviously nations like China and India that are rising powers and are due to overtake the U.S. and West in terms of emissions in a few years. I would like to see more transference of efficient technology to increase efficiency especially as China builds one new power station per week."
Cost savings from retrofitting buildings is not proven, warned Sterling Burnett, a senior fellow at the National Center for Policy Analysis. In some cases, cities that have gone green have seen a decrease in their energy reliability.
"My first response is that it seems good, especially if it saves taxpayers money," he said. "But the devil is in the details. If all they do is provide the seed money for these retrofits that are quite costly and may or may not deliver the cost savings and reliability, then this becomes one big boondoggle and we are taking symbolic action without delivering any real benefit."